Cheriyal artists are also known as Nakashi artists and they depict stories from Hindu mythology and epics like the Ramayan, Mahabharat and Puranas. Cheriyal painting was traditionally done on temple walls and ceilings. However, with time, people started using cloth as their medium of choice.
Cheriyal paintings are normally made in a vertical format and range between 10 and 25ft in length and 3ft in width. Each painting can take between three to six months to complete, depending on the size.
The paintings use six main colours—black, white, indigo, red, yellow and brown. Each colour is naturally extracted from leaves, flowers, shells or stones. The extracted material is ground and mixed with gum such that it sticks to the cloth and does not spread.
For the cloth base, khadi cloth is treated with a mixture of starch, suddha matti (white mud), a paste of boiled tamarind seeds and tree gum. Three coats of the mixture are applied to the cloth. With each coat, the cloth becomes thicker and stronger and remains termite-free for years. Once the cloth is ready, the artist then directly sketches on it using specially-made brushes. The thick brushes are made of goat's hair and the thinner ones use squirrel's hair. A bamboo stick is used as a base for the brushes. 
Once the initial outlines are made, selected hand-made colours are used. Lastly, once the painting dries, a black outline is added throughout the painting to highlight each element.
Here's how you can make your own Cheriyal painting at home.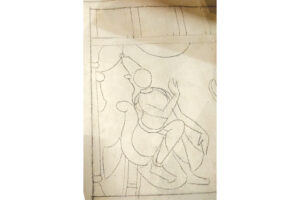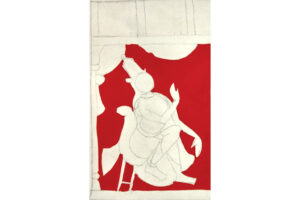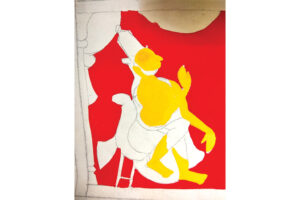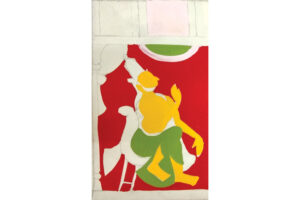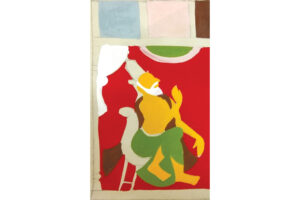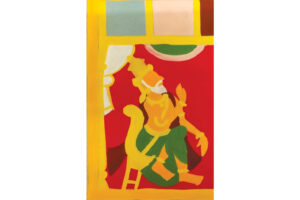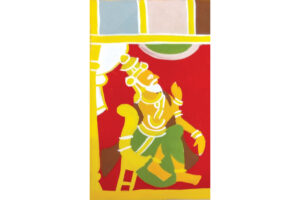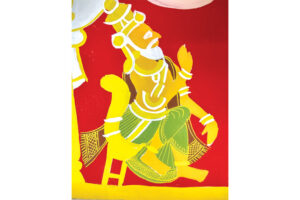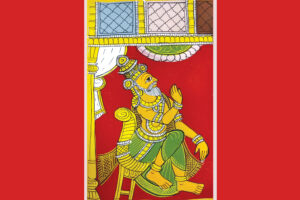 MATERIALS
Thick paper/ handmade paper
Acrylic/ poster colours
Fine paintbrushes
Pencil
Eraser
METHOD
Draw an outline of a man sitting on a chair. Add a pillar with curtains and a semi-circular design on the ceiling. The man depicted in this painting is King Dasharath from the Ramayan.
Paint the background red. Most Cheriyal paintings have a red background.
Colour the skin with light brown or yellow ochre. In this style of painting, the skin of kings, and in some cases women, is coloured in shades of yellow, whereas ordinary people are given a pinkish skin tone.
Paint the dhoti and a part of the curtain green as shown in the picture.
Use brown to paint the cloth around the body. Paint the rest of the curtain white.
Add a beard to the face.
Add stripes of yellow on the body and attire to represent jewellery. Highlight the curtain and paint the chair and pillar yellow as shown in the picture. Yellow represents gold in this style of painting.
Highlight the jewellery and other details with white lines.
Use a fine brush and yellow paint to add more details on the clothes.
Finally, add an outline and fill in details using a thin brush and black paint.
D Vaikuntam Nakash is a Cheriyal artist who has been practising this art form for more than four decades. Nakash has won two National Awards for his art, which he learnt from his father. Nakash and his sons are among a handful of surviving practitioners of this art form.