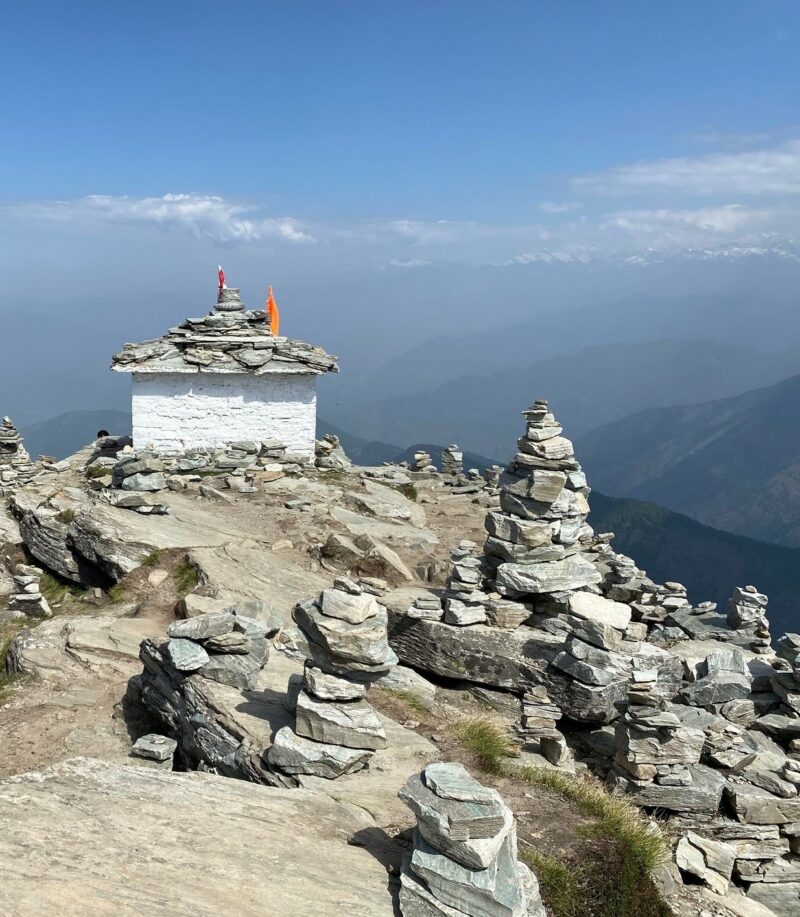 I went to Deoriatal Chandrashila trek organized by Indiahikes this summer. This was a family trek in which kids could also join. We had been trying to go on this trek for the last 2 years. However, we had to postpone our plans due to Covid 19. We took a train from New Delhi to Haridwar. We had to first reach Rishikesh. There was so much traffic between Haridwar and Rishikesh that no taxi wanted to go. We boarded another train at Haridwar to reach Rishikesh.
The next day, we had to go to a place called Sari near Kedarnath in Uttarakhand. The trek was to start from there. I also met some kids of my age. We learnt how to pack our bags, how to do a ranger roll of pants and t-shirt, how to use a sleeping bag and a tent in the trek.
On day 1 of the trek, we talked about agreements that would make our trek efficient. Then we did our warm up and started trekking. We first had to cross a mountain next to our campsite. After some time, we could see white Chaukhamba peaks. Once we reached Deoriatal lake we rested there after the long journey. We did rolly-polly in the big mounds and then headed for Deoriatal campsite. Over there we did cooldown exercises. We went to rest in our tents.
On day 2 of the trek, we had ate our breakfast and then headed for Rohini Bugyal (bugyal is a high-altitude meadow). This was the longest day in the trek and thus we tried to take lesser number of breaks to reach our destination quickly. We first stopped at Jhandi top, one of the high points which had a flag. The trail after Jhandi top was beautiful because there were many big trees and we kept going till we reached Rohini Bugyal. There, we had our lunch and drank tomato soup. Once we reached Syalmi campsite we got to stay in proper tents (the smaller ones). Almost everyone's feet were paining after the steep descend from Rohini Bugyal.
Day 3 was a watery day. We crossed Akash Kamini River and many smaller streams. We also filled water from them. Again, we had lunch and drank sweet corn soup on our way and then headed for roadside forest Baniyakund campsite.
On day 4, we started at 3 am. We all had 'dallia' for energy and saw the sun-rise with its rays falling on Kedardome, a snow cap mountain with Kedarnath peak next to it and Chaukhamba on the side. We trekked up to Tungnath temple and rested there for sometime before the covering the last 1 km upto Chandrashila peak. Chandrashila's altitude is 12085 feet. The view from Chandrashila was amazing with all the snow cap mountains visible. But we couldn't see the highest peak in India, Nanda Devi because of the clouds. We had an exciting day and enjoyed a lot.