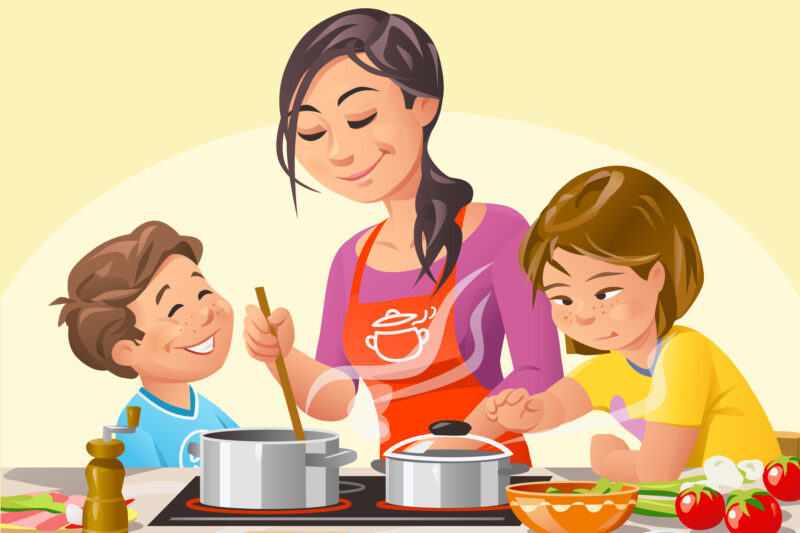 Food for Thought!
In my family, the best conversations, the best revelations and the best memories revolve around food. Aunts, uncles, parents and grandparents, children and cousins running around the place, stumbling across fragrant wafts seeping out of the kitchen. Dare to walk in and your nostrils will be attacked by the flying chilli and turmeric being tossed into simmering pots of dal, sugar and egg whites being rolled into the layered and decadent rotis, ladyfinger being reduced to star-shaped prisms, drowning in tomato paste and onions. Not to mention small round circles, the size of a palm, dancing around in searing oil to bloom into deliciously crispy papads. Sugar being burnt to create an intoxicatingly poisonous fragrance, only to have fried balls of dough and rosewater being gingerly poured in to create the perfect gulab jamun. Steady hands thrusting fresh and creamy liquid the colour of the moon into a stirred pot, followed by raisins and cardamom and vermicelli to achieve an immaculate kheer consistency.
My family will find any excuse to feed each other. On one side, we'll have a spread of beautiful ladies dressed in hand-embroidered salwars and handsome men wearing clean white kurtas, accompanied by a sweeping array of Mediterranean flatbread, mounds of gilded biriyani, rich haleem and malleable channe ka halwa. Melt in the mouth shamis and wintry raita. On the other side, we'll have a congregation of aunties and uncles dressed in vibrant saris and grey slacks. Nearly 10 to 15 dishes ranging from Nellore chappallu pulsu, yam in a rich dark tamarind curry, spinach dal, spicy mango chutney, sorrakai and pungent rasam. Not to mention crisp vadas, thick paayasam and dulcet ladoos especially curated with gram flour.
Food has played an integral role in my childhood and continues to do so. Whether it be grilled sandwiches packed for a road trip or gourmet seven-course dining experiences, the people that surround the table make it all the more enjoyable. Both my grandmothers seamlessly toil away to indulge in our dietary whims and restrictions. They'll whip up a sugary caramel custard or a batch of gluten-free muffins in an instant. At times, when I eat something, perhaps a berry compote or a kale salad, my taste buds are transported back to an obscure place.
Food memories activate most nonverbal areas of the brain and at times I am left dumbfounded, often pondering where I've tasted this before and how to get rid of this overwhelming nag of nearly tangible nostalgia. Again, this type of food nostalgia seems to be less about the taste of the food and more about the particular experience that took place while savouring that specific meal.
Food is more than sustenance, for us lucky enough to be able to have ample and to share it with our loved ones. It's a journey, its knowledge, it's a carefully prepared and beautifully arranged tale. As long as we give it enough thought.