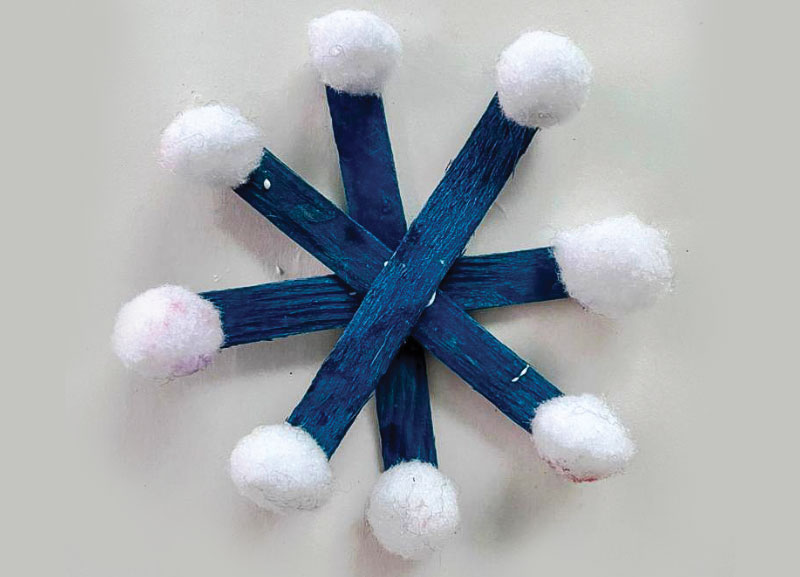 MATERIALS
Different coloured ice cream sticks
Googly eyes
Black marker
Glue
Paints and brushes
White or coloured craft paper
METHOD
For the Fish
Lay 4 to 5 ice cream sticks slanted as shown.
Stick another 4 to 5 ice cream sticks diagonally on top of the first row.
Stick a googly eye at the tip.
Your fish is ready!
For the Rainbow
Place rainbow coloured ice cream sticks in ascending order as shown.
Cut out a white cloud from the craft paper and stick it on top of the row of ice cream sticks.
Stick googly eyes and draw a smile on the cloud. Your rainbow is ready!
For the Bumble Bee
Stick 5 yellow ice cream sticks together to make a rectangle as shown.
Draw 4 black stripes across the sticks.
Cut out 2 wings from the craft paper and stick them on either side.
Cut out 2 antennae and stick them on the top as shown. Also cut out a tail and stick it at the bottom as shown.
Stick 2 googly eyes and draw a mouth to make the face of the bee. Buzzz…your bee is ready!
Abha Shah is the founder of PodSquad, which creates and sells children's educational toys and games for ages 1 to 10 years with a range of themed activity boxes focused on early childhood learning and development. PodSquad also runs an online community sharing ideas for home-based activities to help children learn important concepts and skills through play, called the PodSquad Activity Zone. Follow them on Instagram @podsquadbox.