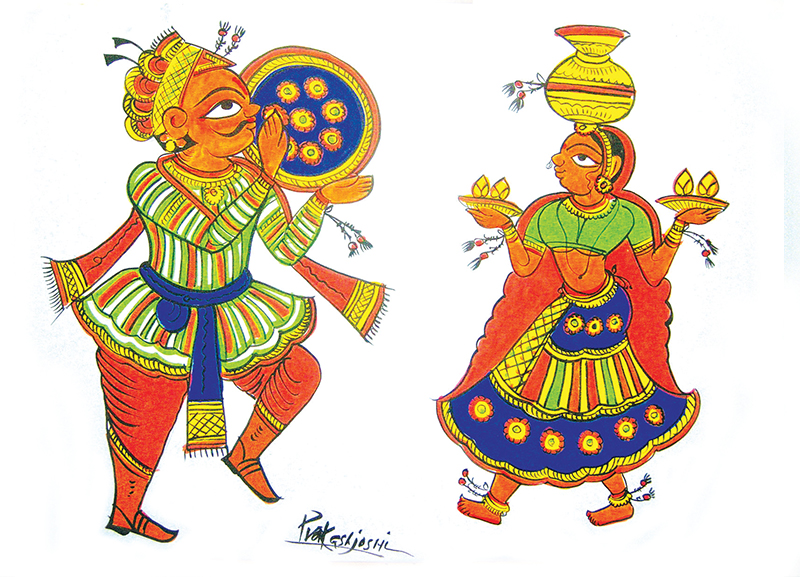 Phad painting is traditionally done on a long piece of cloth, which when prepped is known as 'phad'. Pabuji and Devnarayan Gurjar, folk deities from Rajasthan, feature on all phads. Natural colours derived from plants and minerals are mixed with glue and water to create the paints used in this style.
The process of making the phad cloth is an important aspect of phad painting. A cotton cloth is first stiffened with starch. It is then burnished with a special stone device called a 'mohra' to make the surface smooth. The only colours used in phad paintings are bright orange, red, yellow, black, blue, green and brown. Since there are so few natural colours available, the use of specific colours for specific items is important. Traditionally, the colours are always made by women while the job of prepping the phad and painting it lies with the men.
All phad paintings have certain common features. Every available inch of the canvas is crowded with figures. While the figures are harmoniously distributed across the canvas, the scale of the figures depends on the social status of the characters they represent and the role they play in the story. Another interesting feature is that the figures in phad paintings always face each other instead of the viewer.
Here's how you can make your own canvas phad painting at home.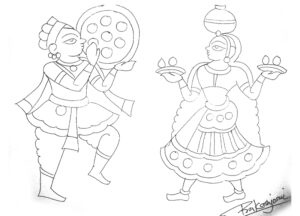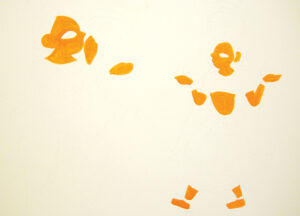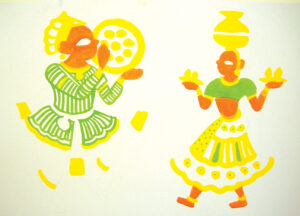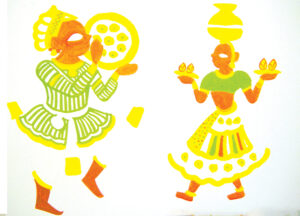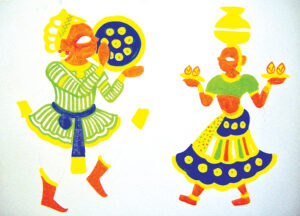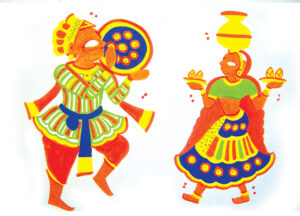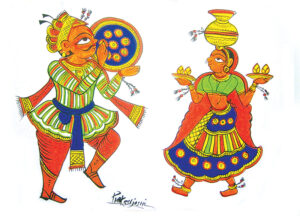 MATERIALS
Canvas
Fine brushes
Waterproof, acrylic or natural colours
METHOD
Draw 2 figures, of a man and a woman, as shown in the picture. Remember to use a light pencil and draw lightly. The figures need to be facing each other.
Use orange paint to colour the parts of the body like the face, hands and stomach.
Use yellow paint for jewellery, instruments and designs on clothes and vessels like plates and pots.
Use green paint for the clothes.
Use brown paint for shoes and minute details on clothes and jewellery.
Use royal blue to add details to clothes and instruments.
Add more details using red paint.
Once you finish painting all the parts, use black paint to add outlines and detailing to the painting. Use a very thin brush to fill in the details or you could use a black pen too. Your phad painting is ready.
Demonstrated by Prakash Joshi, a renowned phad artist who began learning phad painting at the age of 11 years from his father and mentor Shri Nand Kishor Joshi. He is responsible for creating a new style of phad painting by introducing the miniature form to these paintings. Prakash Joshi is a recipient of the National Award, UNESCO Award, State Merit Award and Kala Mani Award.