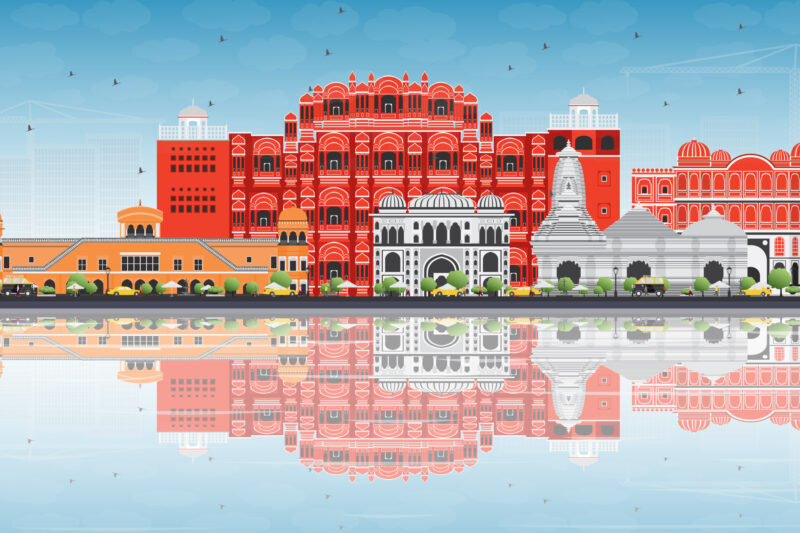 Mumbai. His family was nuclear. Phillip and his parents. Their family was rich. They had a luxury car, big house, Once, there lived a boy named Phillip Gilbert. He lived in Phillip had the best bicycle and they would visit other countries on vacations, almost every time. This time it was Italy. But who knew that their trip could result into a really bad experience.
They always travelled by a flight or their car. Phillip had never travelled by public transport or by train. And he was pretty sure that he wouldn't travel by a train this time too. But the flight from Mumbai had no available seats. They decided to take a flight from Jaipur which had available seats. They again thought to take a flight to Jaipur, but that too wasn't helpful. They had to travel by train that too in 2nd class, because 1st class coaches were less and already filled.
Gilbert's hit the road an hour or two early than the departure time of the train. In the car, one part of Phillip was exited to travel by a trin for the first time. While the other part of him felt unsafe and uncomfortable to travel by train.
They reached the railway station but train had not arrived yet. They all stood at the expected place where their coach will stop. Amazed by the technology and system of the trains, Phillip stood rooted at the spot.
When the train arrived, it was followed by a loud horn. On hearing it, Phillip got frightened. But after understanding that this is a common thing on a busy railway station like this, Phillip followed his parents who boarded the train. Their journey was uneventful until bed time.
At night, after dinner they decided to sleep. Once again, Phillip was amazed by knowing that you can sleep by lying completely on the berth in sleeper trains, unlike flights. Although there were no food serving flight attendants in the train, there were many local people selling packed items at a low price.
Thinking about the pros and cons of a flight and a train, Phillip went to bed. His parents switched off the light of their compartment and feel asleep soon. Phillip could not sleep as the train was moving. Gradually, the lights of the entire coach were turned off. Eventually, chatting people fell asleep. It seemed as if Phillip was the only person awake in the coach.
The coach went silent nobody snoring of moving. The train also seemed to be moving silently, no sound at all. The train eventually slowed down. Phillip thought it is an incoming station. As no station was identified on the train's route, Phillip decided to peep outside the window. No station, no station at all. 'Probably a red signal.' Phillip thought to himself, almost nodding off. Before his eyes closed, he saw a dark shadow board the train. As soon as the shadow boarded the train, the train started to move. It seemed as the train stopped for the for the dark figure to board.
At one moment Phillip felt a loud thud. He could not see anything at the moment. He could only hear the clickety-clack sound coming from the train. When he tried to open his eyes, he could only see a faint, blinking red light which is there on the last coach of every train.
After seeing this, he fell unconscious. The next time he opened his eyes, he was surrounded by a group of villagers. Out of amusement, Phillip screamed on top of his lungs.
The villagers told him to calm down, in an equally surprised manner. They explained him that a girl from the village had found him near the railway line, bleeding and unconscious. She called the other villagers and they all bought him to the house of the chief.
Phillip told them his part story. Some of them almost had tears in their eyes. A long silence was there in the room. The first person to break the silence was the chief himself. He said "We all will help you find your parents in any way we can."
After a few days, Phillip recovered. They all started to find his parents. They told the local police, but no major action was taken. There was no internet and barley anyone had a phone, so calling his parents was not an option.
They all tried every possible way to find Phillip's parents, but no hope. Sometimes, Phillip would just sit in the open sky rather I shall say in the fields. Thinking about the black figure which boarded the train or how did he fell off the train or how will he get back to his parents. Although, he would never get any answer.
6 months had passed, but no information was received about Phillip's parents. But somehow, now after living for 6 months in a village, Phillip got used to it! The boy who never travelled by train or public transport, had adjusted in a village! He loved the open fields, the cattle, sunlight and most importantly the people. Especially the chief and his family who had adopted him, until they find his parents.
He had a routine. Every morning he would wake up at 4 am. Go with the chief to a nearby town and collect newspapers. They would then distribute them in the village. Then they would collect milk from the cows and sell it. Next, they would go to the field, work all day and at sunset, they would return home.
Phillip stayed in the village for the next few months. Meanwhile, his parents were finding him. They were sad and unhappy. The house was quiet always. Both of them did not talk much. They always thought about Phillip. They thought they lost him. They always blamed themselves, thinking that they all should have never travelled by a train, that too in the second class.
When Phillip got older, he thought he could not just sit here, waiting for his parents to come searching him. So, he started collecting money to get back to Mumbai. It took some time for Phillip to collect the money. Once he was done, he got onto a train, said goodbye to the villagers, and headed Mumbai.
Although, Phillip reached Mumbai safely, he could not find his parents. After few days he felt the need to earn money. So, he applied for jobs. But he was rejected. He was told that he is not enough educated.
Phillip thought that he can work in a small shop. But his sixth sense was telling him to apply for just one more job. Luckily, he was called for the interview.
When Phillip came to attempt his last interview, already knowing that he would not be selected, he was shocked. He stood rooted at the spot for a moment. To his delight, the interviewers who stood right in front of him were his parents! He had found them!
They all were glad to meet each other again. Phillip and his parents told each other how they had survived without each other. Phillip told them all about the village, villagers and the chief. Phillip was told that the kidnapper who had thrown him outside the train was captured by the cops. Phillip assumed it was the black figure.
Phillips parents told him that all of them will happily live together in Mumbai. But somehow, Phillip did not like this. He wanted to live with his parents but he could not leave the villagers after living with them for many so years.
Phillip shared his thoughts with his parents. They had an idea. They made a farmhouse in the village and shifted there. Phillip introduced his parents to the villagers.
Everyone was happy. The Gilbert's lived in the village for ever. They developed the village together. They built roads, installed network towers, bought renewable energy resources into use and implemented government schemes. Everyone was happy and Phillip considered both, the chief and his wife and his birth parents as his