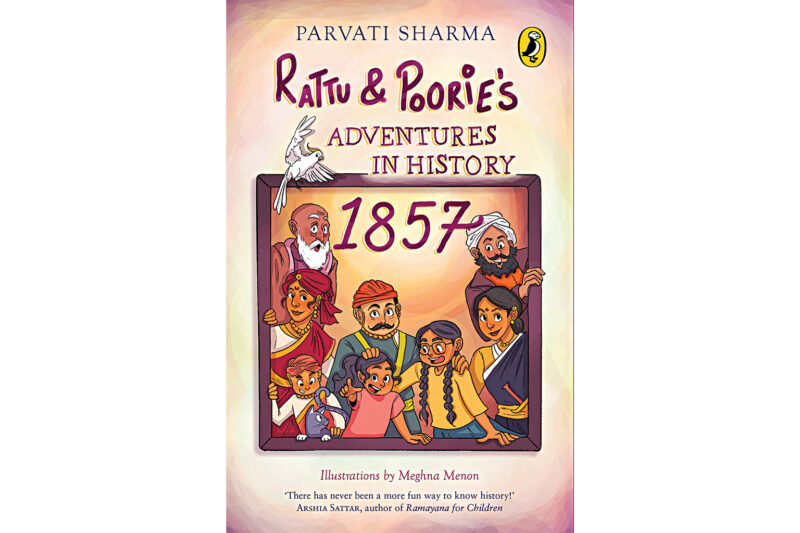 Written By: Parvati Sharma 
Reviewed By: Venya Kapoor, Class 6, Heritage Xperiential School, Gurugram, Haryana 
This book is really exciting and takes you time travelling. There are two main characters in the book—Rattu and Poorie. The story begins with Rattu, who is in a very bad mood. Her bossy elder sister, Poorie has hijacked her toys and has gone off to play without her. Rattu makes ghastly faces at everyone—Roundy the cat, Shanti the cook and Mama as well. But even that does not make her feel any better. She wishes that she had a brave soldier on a big horse with a big sword who would fight everyone and always take her side. As soon as she makes the wish, the ground starts to tremble and suddenly there are not one but two soldiers in her room! She is astonished to see them. But this is followed by some grand adventures—the uprising of 1857 and the encounters of Jhansi ki Rani Lakshmi Bai, Maratha Peshwa Nana Sahib and the last Mughal emperor Bahadur Shah Zafar. The book keeps the reader hooked till the end. This is a very interesting read. 
Published By: Puffin Books | www.penguin.co.in
Recommended Age: 10+
Price: ₹299 years
Available on Amazon.in