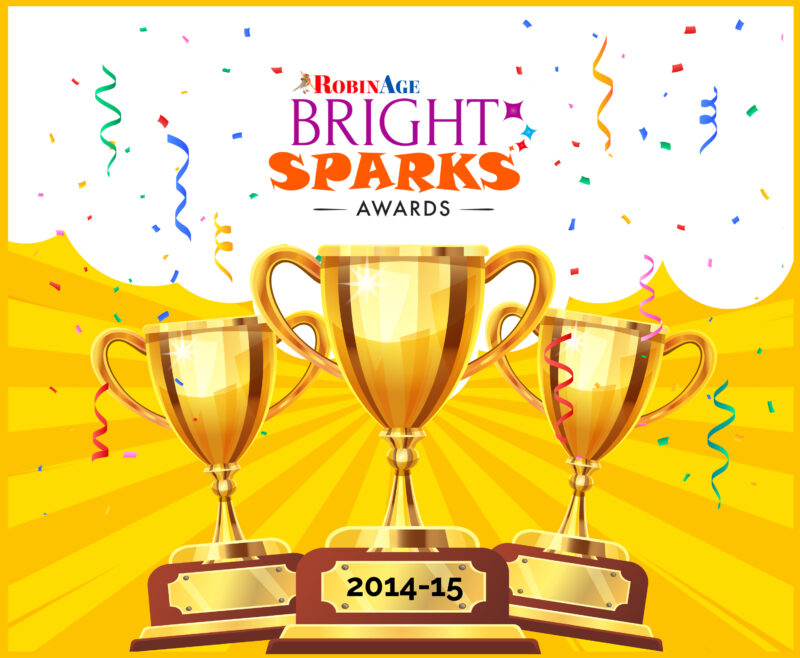 When we launched the RobinAge Bright Sparks Awards in November 2014, we weren't quite expecting to receive as many entries as we did and that too from across the country. In a way, our own reach took us by surprise!
We started segregating the entries from day one, organising them by age and quality. Over three months, our favourites changed almost every week and the RobinAge office would light up with roars of cheer each time we came across a superb entry.
But as we sailed into the last fortnight of the contest, nothing could have prepared us for the number of entries pouring in through post, e-mail and our website, www.robinage.com In the last week alone, we got bulk entries from over 20 schools! Our work was surely cut out for us!
As we scanned through poems, stories and artworks by the dozen, we decided we needed to include category in next year's awards' the Best School Award not for the of entries that but for the of entries received.
Seeing just how many amazing entries we got, we decided to add one new category this year itself the Reader's Choice Award nine awards, one for each category and age group, not including the winning entries as selected by the judges.  
By the end of the first week of March, we had sent the entries to the three judges: Arzan Khambatta, Santhini Govindan and Natasha Sharma, who were nothing short of stunned by the calibre of talent. In fact, when we spoke to Khambatta, he said he had never had such a tough time judging an art contest. The work he received was exceptional!
Though there are only 27 winners as selected by the judges, we would like to congratulate each and every participant and thank you for setting the standards so high for the RobinAge Bright Sparks Awards. All the winners will be felicitated with a plaque and certificate. These will reach your school after the summer holidays, in June 2015, when the new academic term begins. And the winners are…
POETRY: JUDGED BY SANTHINI GOVINDAN
Group A: Class 1 & 2
1st Prize: Harshaman Shah, Class 2, B D Somani International School, Mumbai
2nd Prize: Ayaan Kapadia, Class 1, JBCN International School, Mumbai
3rd Prize: Shania Sarup, Class 2, Cathedral and John Connon School, Mumbai
Group B: Class 3 to 5
1st Prize: Sia Sehgal, Class 4, D Y Patil International School, Mumbai
2nd Prize: Shejuti Sengupta, Class 5, J B Petit High School for Girls, Mumbai
3rd Prize: Myra Sharma, Class 4, Cathedral and John Connon School, Mumbai
Group C: Class 6 to 8
1st Prize: Ragini R, Class 6, The Brigade School, J P Nagar, Bengaluru
2nd: Prize: Divya Damani, Class 7, Divine Child High School, Mumbai
3rd Prize: Sara Adurkar, Class 8, Bombay Scottish School, Mumbai
Reader's Choice
Group A: Annanya Karthik, Class 2, The Shri Ram School, Gurgaon
Group B: Naman K Sheth, Class 4, Shishuvan, Mumbai
Group C: D Kanaka Harshita, Class 7, New Horizon Scholars School, Navi Mumbai
ART: JUDGED BY ARZAN KHAMBATTA
Group A: Class 1 & 2
1st Prize: Smera Balan, Class 2, RBK International Academy, Mumbai
2nd Prize: Rayaan Patel, Class 2, Bombay International School, Mumbai
3rd Prize: Ajab Bhanpurwala, Class 2, Bai B S Bengallee Girls

'

High School, Mumbai
Group B: Class 3 to 5
1st Prize: Saisha Arora, Class 3, The Brigade School, J P Nagar, Bengaluru
2nd Prize: Dhruv Shah, Class 5, Campion School, Mumbai
3rd Prize: Fizra Mansoori, Class 5, Bai B S Bengallee Girls

'

High School, Mumbai
Group C: Class 6 to 8
1st Prize: Ishan Desai, Class 8, Yashodham High School, Mumbai
2nd Prize: Aaisha Shaikh, Class 8, Royal

'

s H A Girls

'

High School, Mumbai

3rd Prize: Jyoti Rathod, Class 8, Gurukula Public School, Kundapura, Karnataka
Reader's Choice
Group A: Atharva Sharma, Class 1, DLF Public School, Ghaziabad
Group B: Divyanshu, Class 5, L K Singhania Education Centre, Nagaur, Rajasthan
Group C: Kanishka Wadehra, Class 8, St Kabir Public School, Chandigarh
STORY WRITING: JUDGED BY NATASHA SHARMA
Group A: Class 1 & 2
1st Prize: Keshav Mohta, Class 2, Vibgyor High School, Mumbai
2nd Prize: Saanvi Mehta, Class 2, Aditya Birla World Academy, Mumbai
3rd Prize: Gangireddy Siva Pranavabharathi, Class 3, Hillside School, Hyderabad
Group B: Class 3 to 5
1st Prize: Aashna Trivedi, Class 4, D Y Patil International School, Mumbai
2nd Prize: Shriya Vishwanath, Class 3, The Brigade School, Malleswaram, Bengaluru
3rd Prize: Kshemaahna Nagi, Class 3, Modern High School For Girls, Kolkata
Group C: Class 6 to 8
1st Prize: Nidhi J Nair, Class 8, Chinmaya Vidyalaya, Vaduthala, Kochi
2nd Prize: Siddarth, Class 8, D L F Public School, Ghaziabad
3rd Prize: Sara Adurkar, Class 8, Bombay Scottish School, Mumbai
Reader's Choice
Group A: Ayush Dasgupta, Class 2, Manthan International School, Hyderabad
Group B: Anand Gopalakrishnan, Class 3, Podar International School, Mumbai
Group C: Anushka Bhati, Class 7, Saraf Public School, Khatima, Uttarakhand