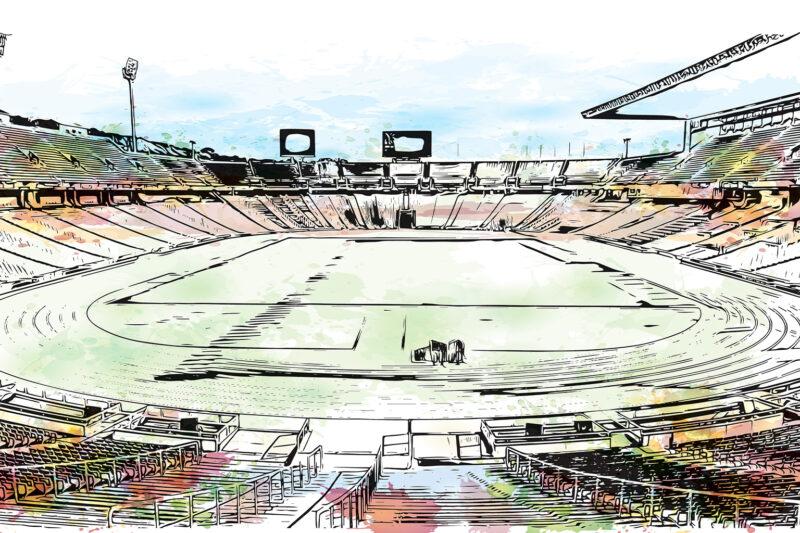 Sweet memories of Camp Nou, Barcelona, Spain
Greetings to all who are reading this travelogue!
I, Navrag, am here to describe about my latest trip to Europe. I have travelled to Europe in the month of April 2023. First, I went to Delhi and stayed there for a night. Next morning, we went to Delhi Indira Gandhi International Airport to take our Vistara flight to Paris and that's how began our out of country journey.
It took literally Ten (10) hours to reach Paris from Delhi. The flight journey was quite interesting where I watched movies, football match and listened to songs. We reached Paris at 8:00 PM of local time there. There is a time difference of almost Four (04) hours between Indian time and time in Europe. Europe itself has got Seven (07) time zones. When we finally reached Paris, I saw a beautiful purple sky view which made me think of the new away-kit of Paris-Saint-Germain (PSG).
When we reached our hotel, I saw my favourite football player Lionel Messi who was going to play his match for PSG. Lionel Messi origins from Argentina but he used to play for PSG during that time. He recently shifted to Inter Miami CF, America. Me and my grandfather shared one room while my mom and dad shared another room. So, we had to book two rooms in total. At 10:00 PM, we went to see the Eiffel Tower by a BMW car. Eiffel Tower, also known as the 'Iron Lady', is the tallest structure in Paris. It is also a part of the UNESCO World Heritage. We took a cruise in Seine River near Eiffel Tower. The song La Seine is based on the beauty of this river which still supplies about half of water used in Paris. We had a plan of watching the lighting show of the tower. Unfortunately, the show was cancelled as it was Sunday.
Next morning, we went to see the Disney Land, Paris. It is situated in Chessy, France. The road to the Disney Land was very beautiful with rows of Cherry blossoms. There are two parks, namely, Disney Land Park and Walt Disney Studios Park inside it. I have done a Captain America mask make up on my face at Disney Land. I took a Spider Web adventure with my parents and grandfather and a very fast roller coaster ride which I shall never forget. I met Captain America, Spiderman, Wonder woman and Thor going for mission inside the Disney Land. It was so exciting!
We came back from there in the evening and at hotel I played American football with French kids.
At night, we had train to Basel, Switzerland which is the birthplace of one of my favorite tennis players Roger Federer. In Basel, we stayed in an apartment named Grand house Apartment where my mom cooked food for us. Another family from Oil India Limited also stayed in the same place. It was a cozy place like home situated near to the Rhine River. In Basel, people speak Basel German as it was very near to Germany. Next day morning, when my dad went for the conference at Hotel Le Meridian, we went to McDonalds. There we ordered kids pack which consisted of two burgers, a box of chicken nuggets, 500 ml Coca-Cola, a pack of French fries and interestingly a surprise toy! It was really delicious, and the surprise toy made my day.
Next, we had plans for Germany, the country of Adolf Hitler who was the master mind behind World War II. We went to Freiburg and Black Forest in Germany by the World's fastest train, Train a Grande Vitesse (TGV) TGV. The speed was 550 kmph. We had the world-famous Black Forest cake in Black Forest. What an experience it was! It is believed that the Black Forest cake was first prepared in this region of Germany after chocolates were first available in Europe. The weather in Germany was very cold but the places were beautiful.
Now, the most important part of this travelogue, trip to Barcelona, Spain. From Basel, we flew to Barcelona by the flight named Vueling. During the take-off I slept and when I woke up, I saw a beautiful ocean with a warship on it. Finally, we landed at my dream place, Barcelona. It is the capital and largest city of community of Catalonia which is originator of Barca Football Club. We took a cab and reached our hotel which was superb and was at walkable distance from the stadium. At last, the day 26th April 2023 came when I went to Barcelona Museum and touched Messi's golden ball. We went to Barcelona to watch the La Liga match between Barcelona Football Club vs Atletico De Madrid. I sat in the 3rd row from front and had a clear view of the entire match. Barcelona Football Club won at the end with 1-0 goal. It was a lifetime experience for me to watch live football match at Camp Nou stadium, World's largest football stadium.
This was the last part of our travel itinerary after which we started our back journey to India via Abu Dhabi by Etihad flight which was full of Erling Haaland's photos.
Hope you enjoyed reading my travelogue. We should not watch TV or mobile all the time. It is better to read books which will help us always. Thank you.