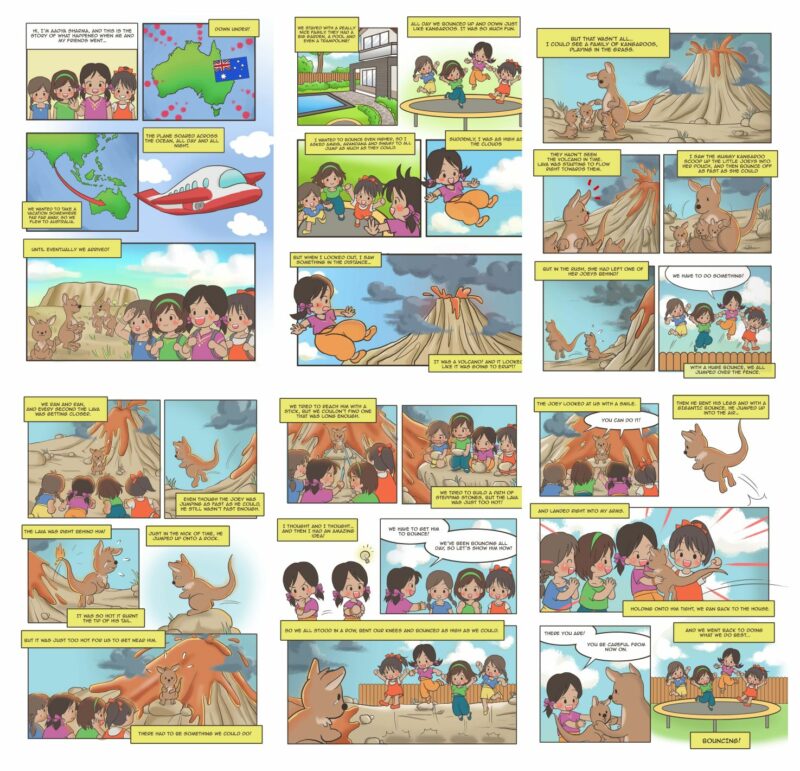 Page One
Panel One
Hi, I'm Aadya Sharma, and this is the story of what happened when me and my friends went… [Four girls]
Panel Two
DOWN UNDER! [Australia map or World map with Australia clearly visible]
Panel Three
We wanted to take a vacation somewhere far far away, so we flew to Australia.

Panel Four
The plane soared across the ocean, all day and all night.
Panel Five
Until eventually we arrived!
We could see deserts, big red mountains and lots of kangaroos.
Page Two
Panel One
We stayed with a really nice family. They had a big garden, a pool and even a trampoline!

Panel Two
All day we bounced up and down just like kangaroos. It was so much fun.

Panel Three
I wanted to bounce even higher, so I asked Amaya, Arandhana and Swamy to all jump as much as they could.
Panel Four
Suddenly, I was as high as the clouds. But when I looked out, I saw something in the distance…
Panel Five
It was a volcano! And it looked like it was going to erupt!

Page Three
Panel One
But that wasn't all…
I could see a family of kangaroos, playing in the grass.
Panel Two
They hadn't seen the volcano in time.
Lava was starting to flow right towards them.
Panel Three
I saw the mummy kangaroo scoop up the little joeys into her pouch, and then bounce off as fast as she could.
Panel Four
But in the rush, she had left one of her joeys behind!
Panel Five
"We have to do something!" I called out to my friends.
With a huge BOUNCE, we all jumped over the fence.

Page Four
Panel One
We ran and ran, and every second the lava was getting closer.

Panel Two
Even though the joey was jumping as fast as he could, he still wasn't fast enough.
Panel Three
The lava was right behind him!
It was so hot it burnt the tip of his tail.
Panel Four
Just in the nick of time, he jumped up onto a rock.
Panel Five
But it was just too hot for us to get near him.
There had to be something we could do!
Page Five
Panel One
We tried to reach him with a stick, but we couldn't find one that was long enough.
Panel Two
We tried to build a path of stepping stones, but the lava was just too hot!
Panel Three
I thought and I thought…
And then I had an amazing idea!
Panel Four
"We have to get him to bounce!" I told my friends.
"We've been bouncing all day, so let's show him how!"
Panel Five
So we all stood in a row, bent our knees and BOUNCED as high as we could.
Page Six
Panel One
The joey looked at us with a smile.
"You can do it!" we called out.

Panel Two
Then he bent his legs and with a GIGANTIC BOUNCE, he jumped up into the air…
Panel Three
And landed right into my arms.
Holding onto him tight, we ran back to the house.

Panel Four
"There you are," I said, giving him back to his kangaroo mummy.
"You be careful from now on."
Panel Five
And all of us went back to doing what we do best…
BOUNCING!