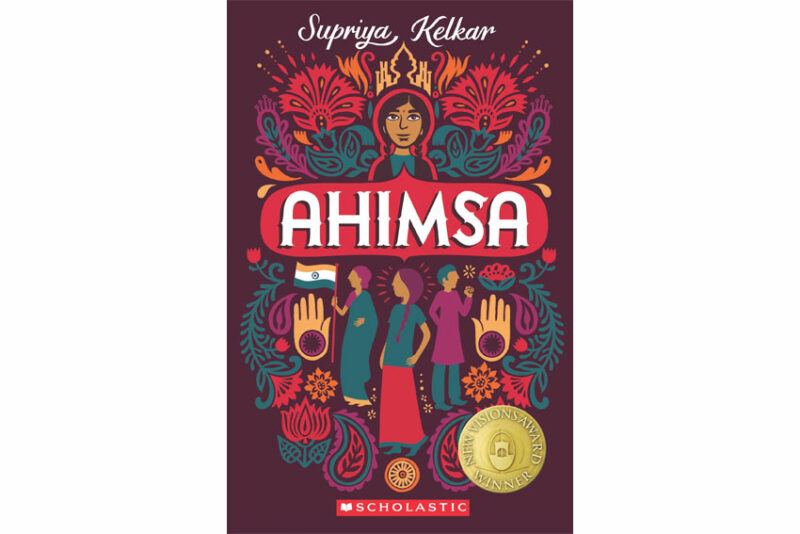 AHIMSA – Book Review
Author: Supriya Kelkar
Publisher: Schoolastic Genre: Fantasy, History
Characters: Anjali, Ma (Shailaja), Baba, Irfaan, Chachaji, Jamuna, Mohan, Paro, Keshavji, Masterji, Captain Brent, and the other basti children.

Anjali, a ten year old girl, lived in the fictional town of Navarangpur with her Bramin family. When her mother, Shaliaja, goes against the British raj and joins the freedom struggle, Anjali plunges into worry. Her mother works to integrate the Dalit, or so called untouchables, community. With the help of her family and best friend, Irfan, she finds ways to help her mother, whether by befriending the dalits or finding a way to bring them to school. Even though riots are raging through the streets, they still try to continue their work.

After attending a meeting, to Anjali's horror, her mother and some other freedom fighters are arrested. Even while her mother is in prison, Anjali tries to continue her mother's work. After an anguished riot of freedom fighters Captain Brent, her mothers former boss, finally understood what he was doing was wrong.

The day the integration of the Dalits in her school, her mother was free from jail, thanks to the letter of pardon Captain Brent had handed her. Ahimsa teaches us many things. I love the way Supriya Kelkar showed each event as though we are at Anjali's side. Though there are no illustrations, she beautifully paints the hardships and struggles of the freedom fight. This is an Incredible story because it shows the true bond between a mother and a daughter.

It also shows the changes we small people of the future can make, like how Anjali kept her head high and walked towards the future. It teaches that we can change the things we don't like about society, like the treatment of the Dalit. It Portrays a sibling like friendship, like Anjali had with Irfan, though it can be messy. It preaches that people take time to change, like how Anjali needed to change her view about her mother's work. Ahimsa gives the perfect knowledge that change is everything!
I thoroughly enjoyed this book, it's a feel good book. It makes Patriotic vibes rush like fire frome our hearts. A perfect read for our Azadi ki amrut mahotsav, Independence day.

Happy reading!