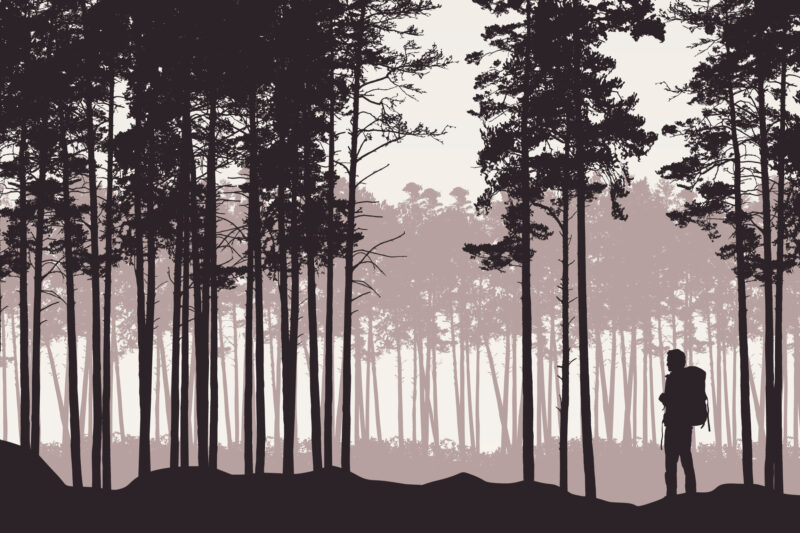 Our school took us to a forest retreat during the summer vacation nearby a small quaint village. We were allowed to talk to the locals and go on fun forest trails. On the last day, all of us got ready to return to our bustling metropolitan homes. My bus was the last to leave, and by then, it was pitch black. The forest seemed to come alive with eerie, out-of-the-ordinary sounds and the swish-swoosh of the tall deciduous trees. It was getting chilly, and I did not want to be there any longer. My friends seemed to be thinking the same, as all of us hurriedly scuttled inside the bus. The chirping of the crickets got louder as if warning us of the events to unfold.
The bus engine spluttered with a sharp jolt and we were on the road. My body was tired, but my mind would not let me get a wink of sleep due to my fear. Suddenly, the driver stopped the bus. The dim street lights were making it hard to see what was blocking the road, so he got off. Creeping closer, he was able to make out the shape of an animal- no, a human.
The body of a boy was strewn in the middle of the road. The driver started screaming, "Help, Help!", his eyes bulging with horror. I immediately got off the bus to make out what was going on when I heard a shrill shriek echoing from the trees. A woman clad in a red sari was sprinting toward us. I and the driver exchanged glances and at that moment, our first instinct was to run. Now all three of us were running haphazardly on the road. I noticed someone's shadow behind me and looked back to see the seemingly lifeless boy running the fastest among us all!
After a few minutes of blind running, the driver stopped, huffing and knees shaking. As soon as the woman got a hold of the child, she gave him two tight slaps across his face and started scolding him in her native tongue. I was confused as to what was going on when she came up to me and started blabbering, "I am so very sorry! My son is such a nuisance, he runs away from home ever so often and lies on the road when we don't listen to him.." I too felt like slapping the boy. However, I regained my composure and gave the boy a light pat on the back, my legs still quavering after the entire ordeal was over.