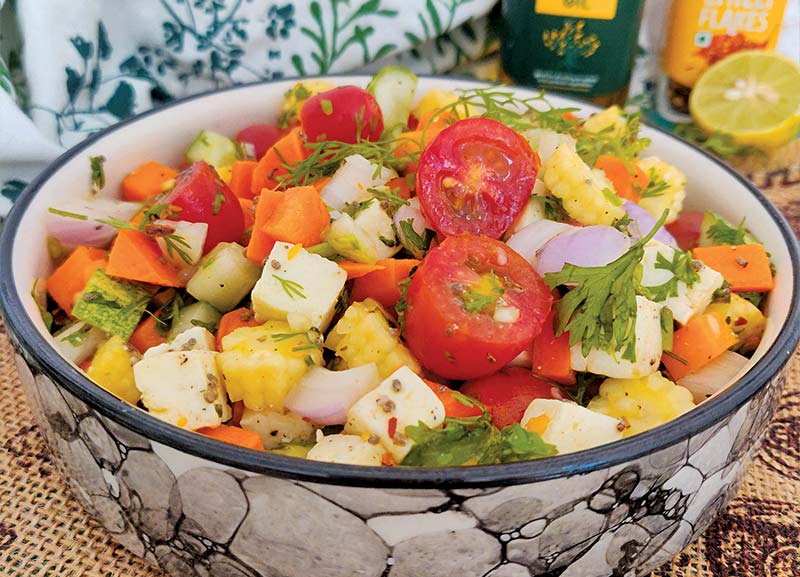 INGREDIENTS
100 grams paneer, cubed
6 baby corns, steamed and diced
6 cherry tomatoes, halved

½

cup steamed and diced carrots

¼

cup diced onions

½

cup diced cucumbers

¼

teaspoon black pepper

½

teaspoon salt
2 cloves garlic, chopped
2 teaspoons chopped coriander stalks
1 tablespoon lemon juice
1 teaspoon honey

¼

teaspoon chilli flakes

½

teaspoon oregano

¼

cup chopped coriander leaves
1 teaspoon chia seeds
2 teaspoons extra-virgin olive oil
METHOD
Sauté the paneer cubes in

½

teaspoon oil. Sprinkle black pepper and salt and keep them aside.
In a pan, heat

½

teaspoon oil and add the garlic to it. Take it off the flame once the garlic sizzles and add the chopped coriander stalks.
Now make a second dressing with 1 teaspoon oil, lemon juice, honey, chilli flakes, oregano, black pepper and salt.
In a bowl, add the baby corn, paneer, cherry tomatoes, carrots, onions and cucumbers. Quickly add both the dressings and toss well. Adjust the seasoning if needed, add coriander leaves and chia seeds on top and serve fresh.
Rakshita Dwivedi is an entrepreneur who runs Recipe Dabba, which empowers kids with healthy food choices and uses cooking as a gender agnostic life skill. She has won many awards including the Orange Flower Award, Women Disruptors Award, Homepreneur Award and Web Wonder Women awarded by the Ministry of Women and Child Development. For more recipes, follow her on Instagram @recipe_dabba