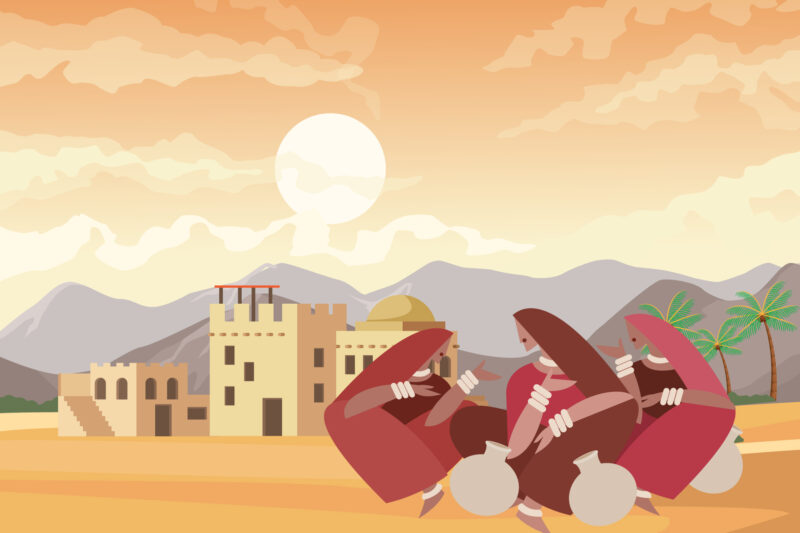 'Padharo Mhare Des' means come to my country. This is the moto of Rajasthan, the most tourist friendly state of India. Rajasthan's rich capture, unique tradition and magnificent history attracts tourist from India and abroad. Rajasthan has many forts, castles, deserts, carvings on stone and the best thing I like here is the food. Rajasthani food is mmmmmmmmmm mouth-watering and appetizing . If you go in any restaurant in Rajasthan you will surely find Dal, batti, churrma, and gatte Ki sabji. This is the delicacy of this ancient and wonderful state.
The forts over here are so huge and strong. I wonder how have the kings built these forts on hills and that too at a time when advanced machines or technologies were not there to help them build these forts. The forts are decorated very well by painting and carvings mostly of God, People , animals, birds, battles etc. Every fort has special history which is told by guides to tourist.
One more famous tourist attraction over here are deserts. In deserts green and watery cactus grow. Cactus don't need much water because they store the water like camels. Because of deserts many people have their jobs like there are camping in deserts, camel ride, festivals and movie shootings. Along with Camel Ride, jeep safari in desert is very entertaining. In this they take you in a jeep and take you all around the desert. There are also folk dance shows. Ghoomar is a traditional folk dance of Rajasthan. The costume wore at this occasion is Ghaghara.
There are many more attraction in Rajasthan like Mount Abu Hill Station, Jantar Mantar at Jaipur, Tiger Sanctuary at Ranthambore, Pushkar Mela and famous temples. Rajasthan is a true delight for tourists and we must visit it once in life time.