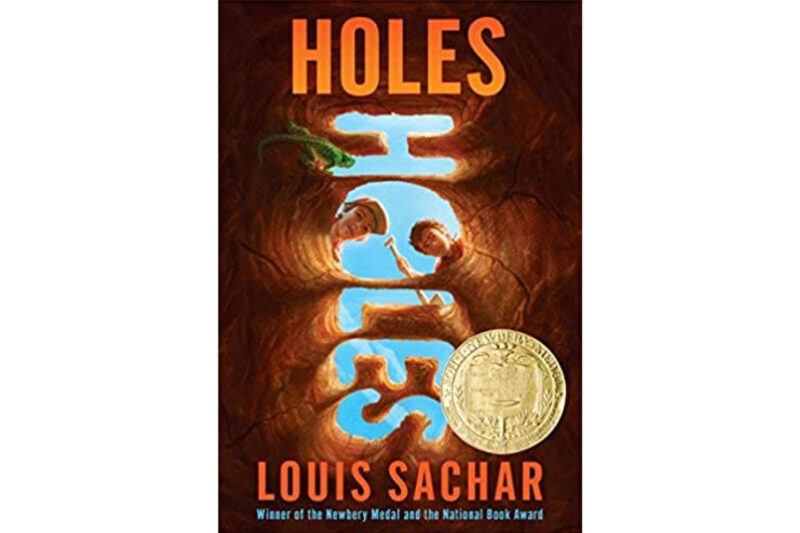 Today I am posting a review of this magnificent book called Holes by Louis Sachar. This book has won four awards: The National Book Award for Children's Literature, the John Newbery Medal, The Dorothy Canfield Fisher Children's Book Award, and The William Allen White Children's Book Award, pretty cool right?
It's about a kid named Stanley Yelnats. (notice that Stanley spelt backwards is Yelnats?) Stanley is sent to Camp Green Lake for "stealing" a famous baseball player's shoes. This is not Stanley's fault. His rotten-no-good-pig-stealing great-great grandpa Elya Yelnats is responsible (I guess that explains why he is cursed). But this is no ordinary camp. In this camp, boys are forced to dig holes 24X7X365. Cruel right? So, the "base idea" is that if you take a bad boy and force him to dig holes it will turn him into a good boy. Or… some people thought and then they put kids into the camp green lake plus the domain of the warden. But, when Stanley finds it he suspects something is wrong beneath the dried-up shrivelled bed of the "lake" lies a secret… Can he dig up the truth? and is the warden forcing them to dig to build character (be good) or something MUCH darker?
An intriguing plot and mystery plus dozens of twists. This book is truly a masterpiece for 8+ readers.
Oh, and I loved it…you'll love it too!