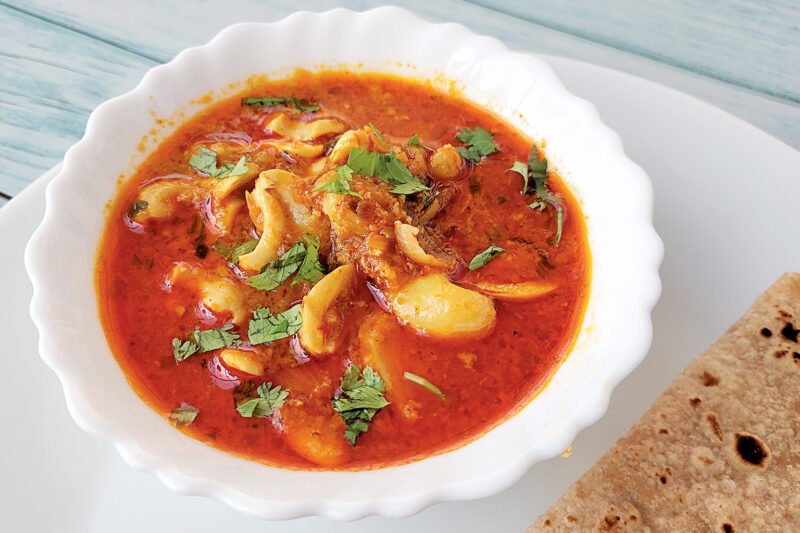 INGREDIENTS
1 cup cashew nuts, halved

 

½ cup freshly grated coconut

 

2 medium onions, finely chopped

 

1-inch tamarind ball

 

½ inch ginger

 

3 to 4 garlic cloves

 

1 small tomato, chopped

 

Coriander leaves, chopped

 

1 tablespoon coriander seeds

 

1 teaspoon cumin seeds

 

4 to 5 black peppercorns

 

1 dried red chilli

 

1 to 2 teaspoons Kashmiri

 

red chilli powder

 

1 teaspoon turmeric powder

 

2 teaspoons garam masala

 

Salt to taste

 

3 tablespoons oil

 
METHOD
Soak the cashew nuts in hot water for an hour (traditionally, tender fresh cashews are used for this curry).

 

In a kadhai, dry roast the coriander seeds, cumin seeds, peppercorns and red chilli.

 

Now add the grated coconut and dry roast everything together.

 

Take it off the flame once the coconut turns slightly golden and has a nice aroma.

 

In the same kadhai, add some oil and when it is hot, add 1 chopped onion. Sauté it till it is golden and turn off the heat.

 

Once everything has cooled down, blend the sautéed onion, coconut mixture, tamarind, ginger and garlic with some water.

 

Now, in a kadhai, add some oil and let it heat up. Add the other chopped onion and sauté well.

 

Then add the coconut-onion paste and chopped tomato and sauté till the oil separates.

 

Add the salt and powdered spices and mix well.

 

Once the masala starts to bubble, add 2 to 3 cups of boiling water.

 

Let it come to a rolling boil and add the soaked cashews.

 

In 5 to 7 minutes, turn the heat off. Sprinkle some freshly chopped coriander leaves and serve with rice or paratha.

 
Mayura Sidharth is a nutritionist, health coach and founder of The Tiny Tiffins. The Tiny Tiffins is a venture that aims to inculcate healthy eating habits in kids. You can reach her on Instagram and Facebook @thetinytiffins