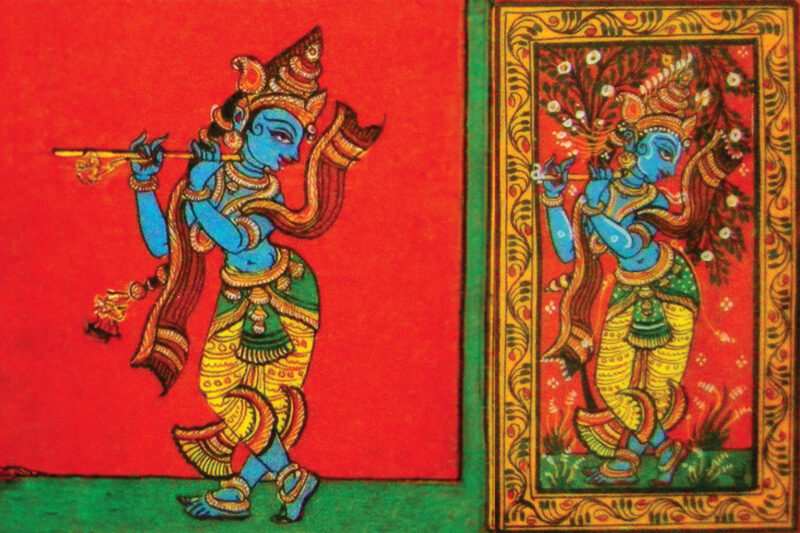 Pattachitra paintings usually depict the Jagannath Temple with its three deities–Lord Jagannath, his brother Balabhadra and his sister Subhadra–and the famous Rath Yatra festival.
Pattachitra paintings use only six main colours—white, red, yellow, blue, green and black, which are extracted from natural ingredients. White is prepared from conch shell powder, red is extracted from geru (red oxide stone), black from the burnt shells of coconuts, blue from indigo, yellow from haritala stone and green from leaves. The colours are mixed with tree gum to ensure they stick to the cloth and give it some lustre. 
A special cloth or patta on which Pattachitra paintings are made is created by sticking together layers of old muslin cloth using a mixture of chalk and tamarind seed gum. The cloth is then rubbed with a conch shell to give it a smooth finish. However, this kind of painting is not limited to cloth and can also be done on walls. 
Here's how you can make your own hand-painted Pattachitra on paper.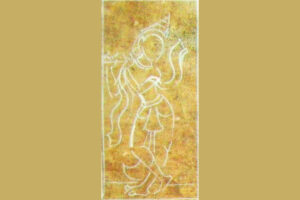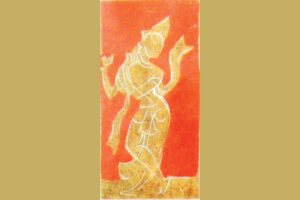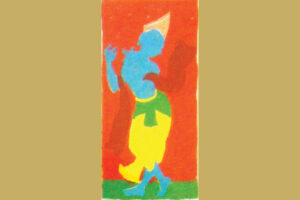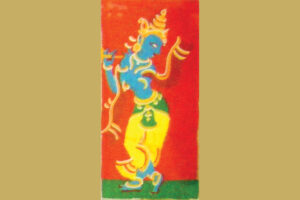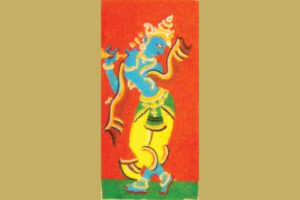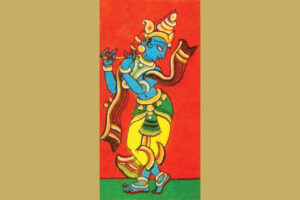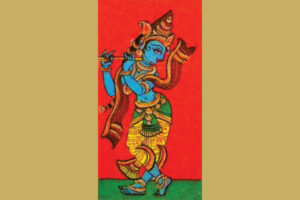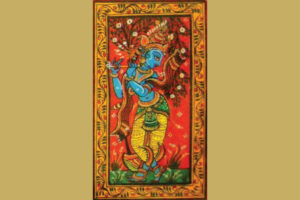 MATERIALS
Thick paper or

 

handmade paper
Acrylic/ poster colours
Fine brushes
Pencil
Eraser

 
METHOD
Draw an outline of a man using a pencil as shown. The man depicted in this painting is Lord Krishna.

 

Paint the background with red paint. In this style of painting, the background is generally red in colour with patterns of flowers and trees.

 

Paint the skin using blue paint. In this art form, Krishna is always painted in blue colour. Paint the dhoti bright yellow and the dupatta maroon. Paint the floor under Krishna's feet green.

 

Draw jewellery including the crown using light yellow paint to depict gold and zari work. Highlight the jewellery by adding fine strokes of white paint. Highlight the attire with dark yellow, red and white strokes. Add lips and eyes using red and white paint as shown.

 

Give the attire a black outline.

 

Add minor details to the painting as shown. Highlight the features on the face too.

 

Use red strokes to highlight the attire and jewellery.

 

Finally, use white paint to highlight the painting and add trees and grass in the background to complete the painting.

 

Pattachitra paintings are known for their floral borders. Create a border for your artwork.

 
Pramod Maharana is a 2016 State Award winner. He hails from Nayaka Patana village in Puri. Maharana was introduced to Pattachitra by his father at a very early age and was later trained by master artists Jaganath and Dinabandhu Mahapatra.