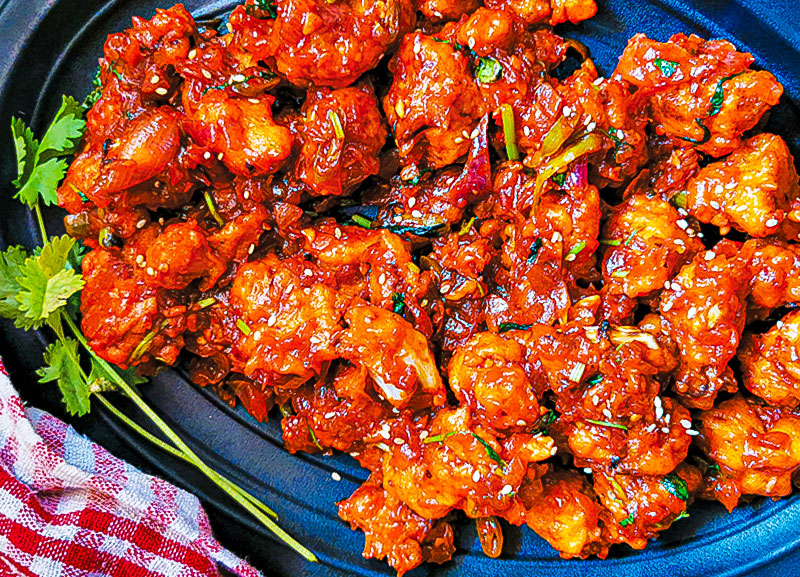 INGREDIENTS
1 medium cauliflower
¾ cup refined flour (maida)
3 tablespoons corn flour
2 teaspoons red chilli powder
2 teaspoons oil
1 teaspoon ginger paste
5 to 6 cloves of garlic
2 green chillies, chopped
½ cup onion, chopped
½ cup green capsicum, chopped
1 tablespoon soya sauce
1½ teaspoons vinegar
¼ teaspoon aji-no-moto (optional)
¼ teaspoon sugar
3 tablespoons tomato ketchup
2 tablespoons chilli sauce
Salt to taste
Oil for frying
Roasted sesame seeds,
for garnish
Coriander leaves, chopped, for garnish
METHOD
Cut the cauliflower into big florets.
Make a smooth batter by mixing the flour, corn flour, red chilli powder and salt with water.
Heat oil in a frying pan. Dip the florets in the batter one at a time and deep-fry them.
In another pan, heat some oil, add the ginger, garlic and green chillies and stir-fry them. Add salt and stir again.
Add the onions and capsicum and allow them to cook for a minute. Add the aji-no-moto (if using), soya sauce, vinegar, sugar, chilli sauce and tomato sauce and mix well.
Now add the fried cauliflower florets to the sauce and toss well. Garnish with sesame seeds and chopped coriander and serve hot.
Sweeny Dias from MumbaiFoodScenes is an active Instagram blogger. She is on a sojourn to explore the culinary world as a Mumbaikar and tells her followers what makes it to the final cut. MumbaiFoodScenes guarantees instant food cravings—from humble eateries to fine-dining luxuries, she covers it all. Follow her on Instagram @mumbaifoodscenes.

Create a new recipe using your favourite vegetable or plant-based product.