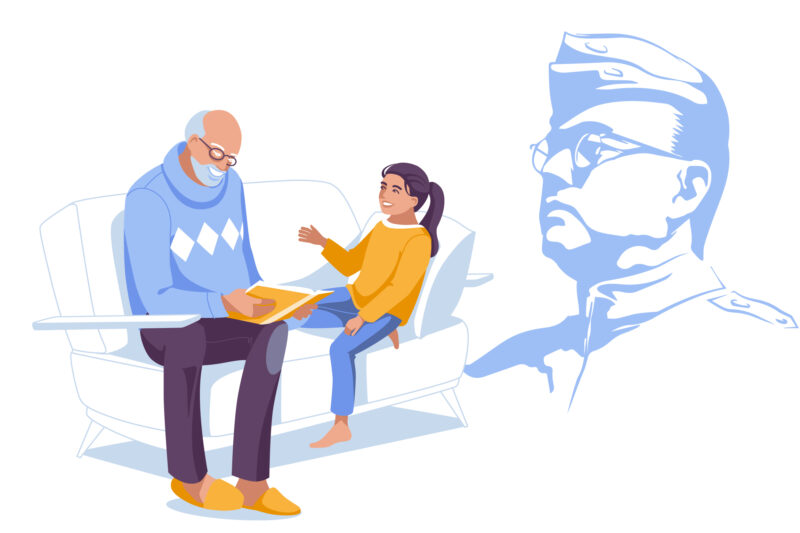 I asked my Dadu the other day,
What do you feel when you hear the name,
Netaji Subash Chandra Bose.
He replied with a big smile on his face,
Netaji is the God to which the entire nation bows.
Tell me more, tell me more please, I said,
He replied, it is big long story my dear child.
Dadu spoke with a spark in his eye,
Talking about Netaji always made him cry.
A brave son of our motherland was Netaji,
A leader of the masses was Netaji,
A warrior who knew no fear was Netaji,
The Patriot among
Patriots was Netaji.
Dadu continued with a lump in his throat,
Netaji was someone he always loved to quote.
He wanted my nation to be free, strong and brave,"
He asked us all to never ever be a slave,
He raised an army and established Azad Hind,
His rousing lines all come flashing back to the mind.
Dadu continued with the brave tales of the hero,
Each one more interesting than that of any Marvel superhero.
Imagine one man with an idea to take down a behemoth,
He sacrificed all and worked hard to take it forth.
He asked for blood and assured freedom in return.
He was not just of words but a man of action.
Dadu picked me up with his frail thin hands,
Looking straight into my eyes he asked me once.
Will you promise to never allow his dream to fall?
It is for our future that the brave man sacrificed his all.
What should I do, Dadu, please do tell?
Always be strong, always work hard and make the nation stand tall.
I promised Dadu that I shall always work hard,
My actions will make
Netaji feel really proud.
Netaji believed in India and the strength of Indians,
Isnt it our duty to make true his aspirations.
Many may come and many may go,
But he was, he is and will always be my Netaji.