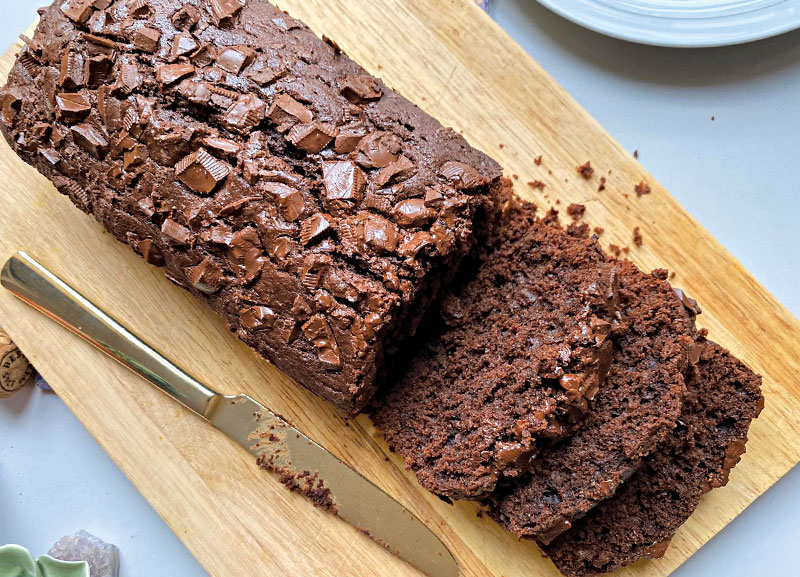 INGREDIENTS
10 tablespoons butter

175 grams dark chocolate, chopped

1¾ cups all-purpose flour

½ teaspoon baking soda

1½ teaspoons baking powder

1 teaspoon salt

½ cup dark cocoa powder, sifted

½ cup light brown sugar

½ cup sugar

3 eggs

2 teaspoons vanilla extract

1 cup cream or substitute with 89ml milk + 2 tablespoons butter

½ cup semisweet dark chocolate chips, for topping (optional)
METHOD
Preheat the oven to 175˚C. Grease a 9×5.5-inch loaf pan with butter, line with parchment paper and grease lightly again.

In a medium saucepan over medium-low heat, melt the chopped chocolate and butter until smooth. Set aside and allow to cool.

In a large bowl, combine all the dry ingredients—flour, sifted cocoa powder, baking soda, baking powder, sugar, light brown sugar and salt. Whisk until fully incorporated.

In a separate bowl, whisk the eggs. Add the remaining wet ingredients and beat until smooth.

Mix the wet ingredients with the dry ingredients and mix until there are no longer any clumps of flour.

Fold in the chocolate chips, if using.

Transfer the batter to the loaf pan and smooth out the top using an angled spatula. Don't fill the pan all the way; leave at least 1 inch from the rim of the pan so it doesn't overflow.

Sprinkle chocolate chips on top.
Steffi D'souza is the founder and head chef at Philoméne Maison Du Pâtisserie in Mumbai. The patisserie creates macarons, artisanal chocolates, petit gateaux, entremets, choux pastries, tiramisu and French teatime treats like madeleines, financiers, palmiers and tea cakes. It delivers across Mumbai, Navi Mumbai and Thane. D'souza is a trained pastry chef from Le Cordon Bleu, Paris, and has worked with Pierre Hermé and Massimo Botturas' Food for Soul project, Refettorio Paris. She can be reached on Instagram @_philomeneindia

ACTIVITY: Where Do They Come From?
Example: Butter- Made from milk