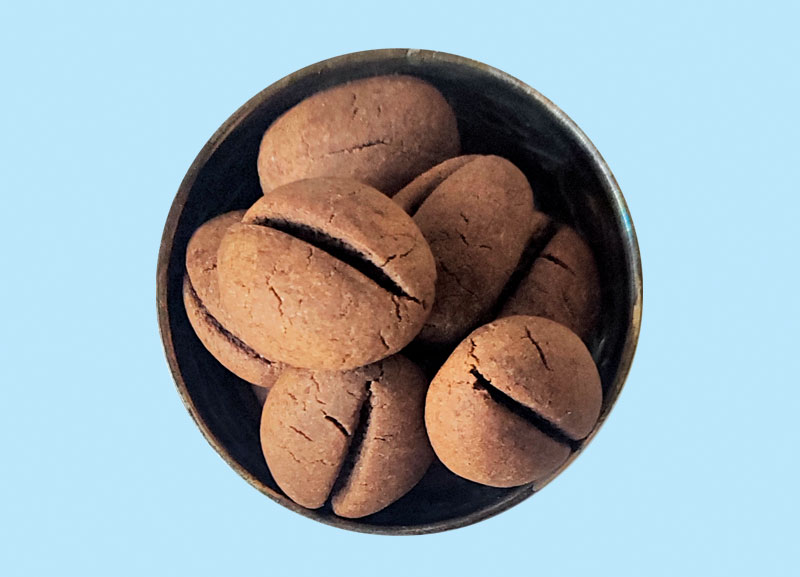 INGREDIENTS
130 grams all-purpose flour

12 grams cocoa powder

45 grams cornflour

5 grams instant coffee powder

10ml hot water

75 grams unsalted butter

70 grams icing sugar

1 egg yolk
METHOD
Combine the hot water and coffee together. Mix well and set aside.

In another bowl, combine the flour, cocoa powder and cornflour. Mix well and set aside.

Next, take a bigger bowl, add the butter and sugar and whisk until smooth. Add the egg yolk and continue whisking. Add the coffee mixture to it and whisk.

Now, fold in the flour mixture. It should form a smooth dough. If not, you may have to add in a few more tablespoons of flour (only if needed). Cling wrap the bowl and refrigerate for 30 minutes.

Once chilled, take small portions of the dough and form coffee bean-like shapes. All you need to do is take a small amount of cookie dough and roll it into an oval shape on your palms until it is smooth with no cracks. Do not flatten the top with your palms. Next, using a knife, create an impression on the diameter of each cookie to make it look like a coffee bean.

Place the cookies on a baking tray lined with parchment paper and freeze for 5 minutes.

Lastly, bake the cookies in a preheated oven at 160˚C for 10 to 15 minutes.
Steffi D'souza is the founder and head chef at Philoméne Maison Du Pâtisserie in Mumbai. The patisserie creates macarons, artisanal chocolates, petit gateaux, entremets, choux pastries, tiramisu and French teatime treats like madeleines, financiers, palmiers and tea cakes. It delivers across Mumbai, Navi Mumbai and Thane. D'souza is a trained pastry chef from Le Cordon Bleu, Paris, and has worked with Pierre Hermé and Massimo Botturas' Food for Soul project, Refettorio Paris. She can be reached on Instagram @_philomeneindia