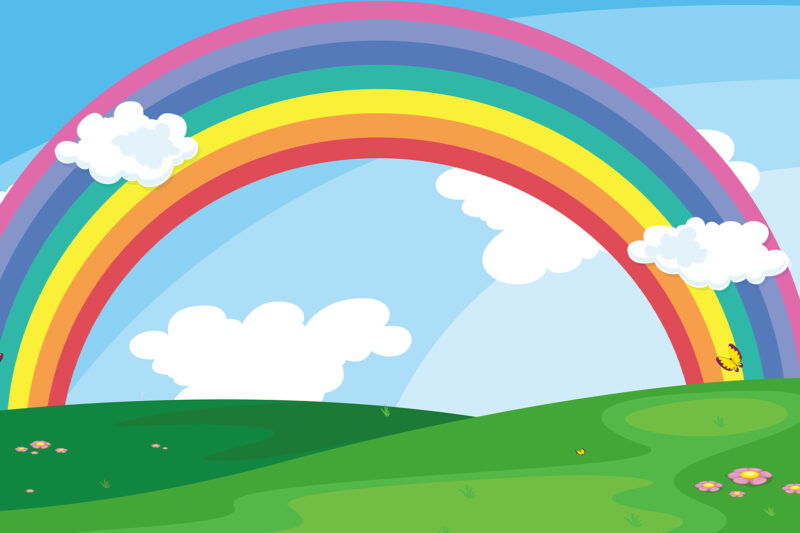 A symphony of colours,
Enhanced by light,
It creates such an illusion,
The mixture of rain and sunlight.
The sight is admired,
By everyone around,
The rainbow's glory,
As it lights up the background.
Each child loves the rainbow,
But its more than just science,
Its not even the occurrence,
But a representation of alliance.
The rainbow is formed,
When sun and rain combine,
A single drop of rain,
Can cause a rainbow divine.
The rainbow symbolizes,
The strength of love and unity,
The amount you love,
Can prove your heart's purity.
A true person,
Always shines like a rainbow,
Confidence and kindness are the key,
Then no one will make you feel low.
Superiority isn't your status,
Neither is it your wealth,
It is the size of your heart,
In both weakness and health.
If your heart is pure,
Like the rainbow divine,
Then nothing will ever bring you down,
From cloud nine.
A rainbow isn't perfect,
But it is never one thing,
The proportion of the colours is ever changing,
Yet, seeing the rainbow makes your heart sing.
The rainbow is a perfect model,
Where opposites attract,
Sun makes water evaporate,
Yet comes the rainbow when the rain and sun make a pact.
The rainbow is like life,
In the end, there may be gold,
But you will have to follow the path to discover,
If true is the tale told.
The rainbow is a surprise,
Like the best things in life,
You never know when it will appear,
Yet it is always nice.
The rainbow appears,
After it rains,
So, after the floods,
It relieves the pain.
People dance,
When they see the rainbow alight in the sky,
It is truly mighty,
Makes me want to fly high.
The rainbow is the best!
Don't you agree?
Everyone loves it,
And it ends grief.