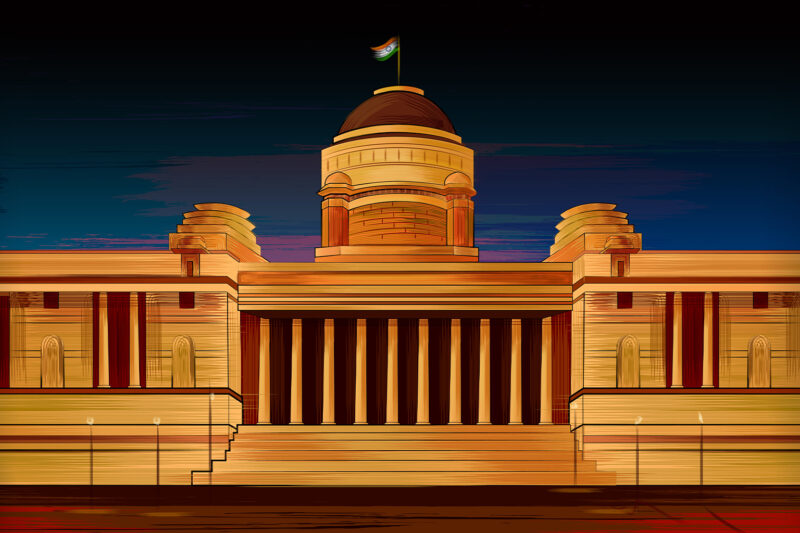 India's Sansad Bhavan, also known as the Parliament House, Rafi Marg, which spans the Central Vista, is where it is situated. The Lok Sabha and Rajya Sabha, the lower and upper houses of India's bicameral parliament, respectively, are housed there. On May 28, 2023, Prime Minister Narendra Modi inaugurated it.
The construction of a new parliament building was part of the Central Vista Redevelopment Project, which the Indian government unveiled in 2019. Other projects in New Delhi included the renovation of Kartavya Path, the building of a new vice president's residence, a new office and residence for the prime minister, and the consolidation of all ministerial buildings into a single central secretariat. The CPWD awarded Tata Projects Ltd contract in September 2020 for the construction of the new parliament building for 862 crores. In October 2020, HCP Design Planning and Management Pvt. Ltd., situated in Ahmedabad, is awarded the architectural consulting project.
On December 10, 2020, Prime Minister Narendra Modi placed the foundation stone. July 11, 2022, on top of the brand-new Parliament building, a statue of the nation's flag was revealed. Finally, on May 20, 2023, the construction was finished.
The new complex is hexagonal in shape, according to Bimal Patel, the architect in charge of the redevelopment of Central Vista. The structure is intended to last more than 150 years. It incorporates architectural designs from several regions of India and is built to withstand earthquakes.
888 Lok Sabha seats and 384 Rajya Sabha seats are located in the new complex. It lacks a central hall, unlike the former parliament building. In the event of a joint session, the Lok Sabha chamber can accommodate 1,272 members. The remaining four floors of the structure are home to committee rooms and ministerial offices.
The building is 10% smaller in size than the existing old circular building, which has a built area of 22,900 square metres (246,000 sq ft), including its open sky area of 6,060 square metres (65,200 sq ft), divided into three sectors. This includes its open-sky area of 2,000 square metres (22,000 sq ft) for a banyan tree. Gyan Dwar (knowledge gate), Shakti Dwar (power gate), and Karma Dwar (karma gate) are the three entrances to the Parliament House.