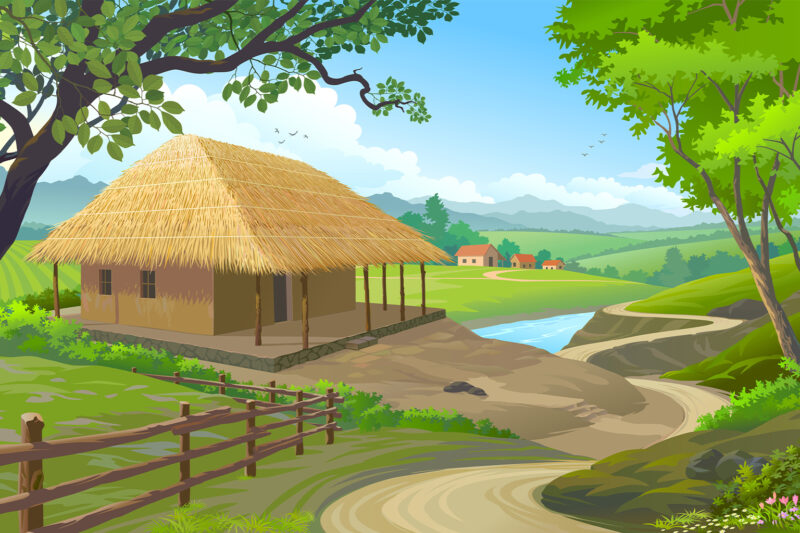 Faraway, in the Middle of Nowhere, there was a small, yet cozy village. Its name was Showaw. The village was famous because of the curiously shaped houses. Each house in the village was shaped like a vegetable, ranging from the shape of a tomato, to the outline of a turnip, and the silhouette of an onion. In the heart of the village, there lived a girl called Bindi. She had a round face, big beady eyes, and thick, black hair. She was prettier than a doll. She was a quick learner, and adapted to everything in a jiffy. She tried helping her brothers do their homework but they would take her with a pinch of salt. Her mother would always scold her for not helping her brothers with their studies.
Everyday, she would wake up at daybreak to fetch a pot of water from a river outside the village. She had to be extra cautious because crocodiles lived inside the water while balancing the buckets of water on her shoulders. Once, her mother had cursed her for being a girl, and had shrewdly remarked that she wished that a crocodile would eat her.
She had to get firewood from deep inside the forest. Once a snake had bit her best friend, Rani. Everyday, they used to go together to the forest. People's eyes would dazzle upon Rani. Together, they would enchant people. They were like two drops of water They shared the same interests like: studying, writing, drawing and reading. They would take their brothers' dilapidated books to study. They had each other's back if someone tries to trouble them. She had died because there was no medical facility inside the village so they had to go out, but by that time she had passed away. They were so Bindi got depressed as Rani was her only friend and confidant.
That is when Bindi realized the essential importance of a doctor. She would implore to her parents "Please let me study! Please let me pursue my dreams! I promise I will make you proud in the village!", but they would never listen. So, she thought of ways to study, but then she got a brainwave! "What if I start living in the old cabin that grandfather left to me?" she thought. Her grandfather was the only one who believed in her and since he was an astrologer so he knew that she is meant for bigger things in life.
However, he did not share it with anyone except for her. Her parents agreed for her to stay there because they thought she was jinx for them and brought them bad luck as her unborn twin brother lost his life inside her mother's womb. After a while, she moved to the cabin, and started cleaning it. She dusted the cobwebs, cleaned the shelves, and mopped the floors. Then, she moved all her bag and baggage there, and started living there.
Her parents told her that she still has to contribute to the daily supplies of the house as they did not want to risk the life of any other male member in the family, but Bindi had a condition. "You have to pay me Rs 50 for the water, and Rs 50 for the firewood. If you do not, your supplies will be cancelled for the rest of the month!" Along with the wood that she got for her family, she would get some to make essential things like study table, bed for her house. She painted the walls from the nectar of the special flower called majestical Maybelline, which was available in abundance near the cabin. Her new house was an epitome of tranquility just like the waves hitting the seashore on serene and peaceful nights. This ambience made her concentrate more on her studies.
That way, she would have enough money for her school supplies and fee. After years of working hard, she graduated school as valedictorian. Then, she went to the USA for her medical studies on scholarship. She became really famous in many countries. But, in that village, people made fun of her. In her famous interview on World Global News, she said that "I would like to say this to the people of my village. So many lives are lost because of you! Your daughters beg you, implore you, plead with you to let them study. But, what do you say? You say: NO!
If you would let them study, the village would have lawyers, poets, writers, policemen, and the most important of all: doctors! You do not deserve a chance, so I will let you suffer. In all honesty, you deserve no mercy, no mercy at all!"
Now, that she was a successful doctor, her family came to meet her. "You did not support me in the beginning, so why are you crawling to me now? Is it just for the money? I have made an announcement to the entire village. So, why are you any more special?" she replied sternly. She gave them a note, and left for the air. She was off to pursue the sky, grab the clouds of her dreams, and paint the canvas of her mind with the golden sunshine of true passion.