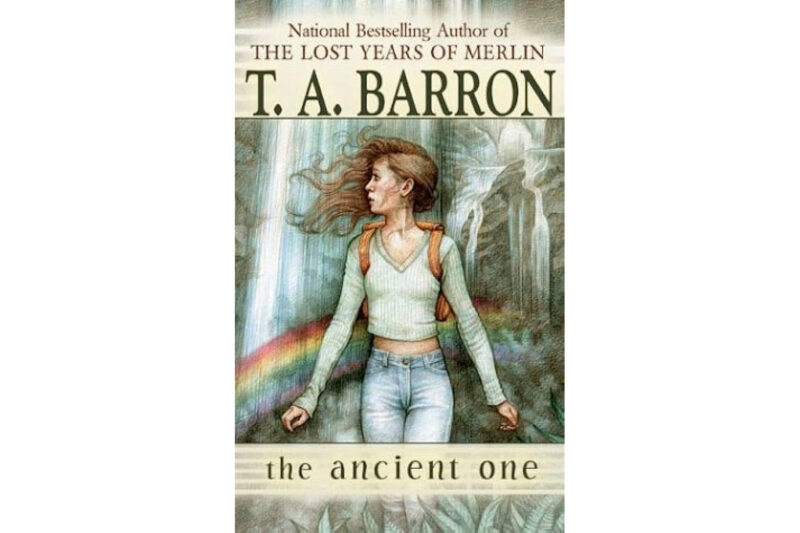 The Ancient One is a wonderful and immersive book by T. A. Barron about a girl named Kaitlyn, who is called Kate. Kate goes to visit her Great Aunt Melanie in Oregon. A few days after her arrival, she finds out that loggers want to chop down the newly discovered forest in Cronon's Crater.
Kate and Aunt Melanie go to the Crater to stop them and have just enough time to explore the Crater a little. But because Aunt Melanie forgot her walking stick in the woods she decides to run back and get it.
Suddenly, a storm begins and the loggers run back to the van. Only one, Jody, gets left behind and Kate tries to help him. But, the two of them accidentally go back in time to five hundred years ago, when the ancient tribe of the Halamis lived in the crater.
She meets a girl named Laioni and a dog named Monga who try to help her in her journey home. She meets the Tinnanis and finds out that with the help of the walking stick, which was really the stick of fire, she must heal the broken Touchstone, a precious stone of great power, to get back home. But to do this she must go face to face with the Wicked One , Gashra himself.
Will she have the courage to do it and find the touchstone? Will she be able to get back home to the future? Or will she disappear like the rest of the Halamis?
I really like this book because of the way that T.A.Barron showed Kate's thoughts and expressions at every single moment. I love the way he paints a verbal picture of every single event. I think that this story is special because it tells us not to chop down trees and protect nature in a very beautiful way. This book is the perfect blend of fiction and reality, which will definitely bring up a surge of love for the world in the reader. This is an exquisite and fantastic book which is a must read for all.