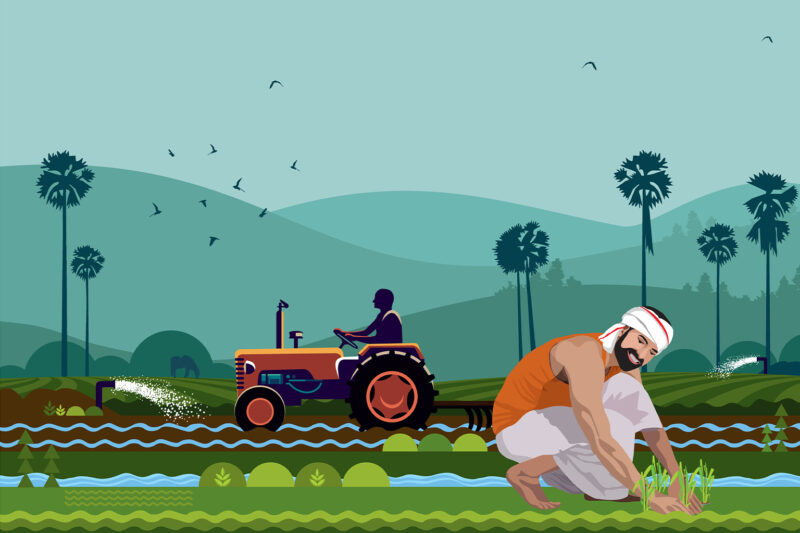 I woke with a sense of anticipation, my eyelids parting to reveal a world wrapped in emerald hues. Sunlight passing through the foliage of the neem trees outside my home painted intricate patterns on my bedroom walls. Through my window, I glanced at the tapestry of nature woven by my grandmother's loving hands. The lush trees stood tall and proud, swaying in the morning breeze and whispering tales of resilience and growth. In that enchanted moment, I understood that this sanctuary was not merely a collection of trees, but a testament to the strong ties between my family and the natural world. And so, fueled by a desire to immerse myself in nature and experience the nostalgia of my birthplace that I had not visited in over eleven years, I embarked on a life-altering journey to the land of red rivers and blue hills, Assam.
Under the all-encompassing azure sky, the Brahmaputra River slithered through the heart of Assam like a majestic serpent. The river's currents whispered secrets of centuries past, carrying tales of both destruction and regrowth. Its banks were bedecked with lush foliage, and millions depended on these lands for their livelihood. It was here, amidst this breathtaking landscape, that I remembered my childhood in Assam. I loved the river–its vastness, its gentle humming, and how it seemed to flow eternally. My father was a fisherman, just like my grandfather, and his father before him. Every morning, he would embark on a journey in an ancient, decaying wooden boat, returning only after sunset.
I would chase after him as he sailed towards the horizon, venturing into the water as far as I could while keeping his small vessel in sight. I remember pleading with him to take me along, but he always refused. It was unlike him; he was the most kind-hearted man I knew. He would explain that it was far too perilous for a young child like me, but I could never understand why. The river was our source of sustenance, providing for us as it had done for generations. What dangers could possibly lurk beneath its depths? I would sit under the rustling leaves of my beloved palm tree, speaking to the river, pondering over the harm it could bring.
Back then, I was just a child, unable to fathom the gentle, shimmering current transforming into a furious maelstrom of foam. I could never have imagined the water towering over the river's banks, transforming the blue water into a murky brown. The walls of bamboo and roofs thatched with care in our riverside village were reduced to mere strips of bark and jagged planks. But life compelled me to learn. I was forced to witness the river's transformation into an unrestrained beast, devouring our homes and submerging our fertile fields. Even after the waters receded, our lives did not remain the same. The patch of land where I sat each day, eagerly observing boats passing by, now lay several meters below the turbulent waters. The river's water levels had been rising for years, attested by the village elders who spoke of coastlines that had long been submerged.
I snapped out of this memory, and my family ventured deep into the Molai Forest accompanied by the symphony of rustling leaves and birdsong. The air was dense with a strong earthy scent that mingled with the sweet fragrance of blooming flowers. With every step, we were closer to the hidden marvels that my grandmother had told us about–the testament to one man's unwavering devotion to the environment. And so, as the sounds of the forest continued, my grandmother's voice rose above the gentle breeze, recounting the extraordinary tale of Jadav "Molai" Payeng. "Let us take a moment," she said, her eyes glimmering with awe, "to imagine the dedication it must have taken for a single man to transform this barren landscape into a natural paradise". "Incredible," I replied, my voice filled with wonder. "How did he do it?"
With reverence, she explained how Jadav had witnessed the devastating impact of flooding in the Brahmaputra River on the river island of Majuli where his tribe resided; it took lives, destroyed homes, eroded fertile land, and created miles of barren sandbars. At sixteen years old, Jadav encountered a pile of snakes that had washed up on one such sandbar; their lifeless bodies had been scorched by the unwavering heat that arrived after the flood. He treasured his home island which was gradually eroding; he worried that if animals withered without trees, humans were prone to this possibility as well. Armed only with a spade and a handful of bamboo saplings, he set out on a mission to reclaim the land engulfed by the river. In the depths of solitude, he toiled tirelessly each day to sow seeds of hope. Through my grandmother's vivid storytelling, Jadav's valiant efforts came alive. Each tree he planted was a testament to the power of an individual to reshape the world.
He began by planting saplings along a dry sandbar by the Brahmaputra River. Nobody believed that he would succeed in doing so, but since 1979, a forest greater than the size of Central Park emerged in the same location. With an unwavering drive, he spent decades reviving the once-barren land; his sweat mingled with the earth, birthing forests that stretched as far as the eye could see. To address the potential submersion of Jadav's home, Majuli Island, a local forestry division launched an ambitious afforestation plan to plant trees across 200 hectares of land. Among the dedicated contributors enlisted to aid this endeavor was Jadav. Yet, when the plan was prematurely abandoned in 1983, Jadav's spirit remained resolute, undeterred. While others departed, he chose to stay; in an extraordinary display of perseverance, he not only nurtured the trees that were already planted, but he continued to sow the seeds of transformation. He single-handedly sculpted a barren desert into a verdant forest with over forty million trees to date. In honor of his extraordinary efforts, this forest came to be known as the "Molai Forest", a tribute to the man who breathed life into its every corner.
Within its embrace, a vibrant array of living beings thrived–magnificent elephants, elusive rhinoceros, majestic Bengal tigers, and a multitude of elegant deer and birds found their sanctuary. The bamboo reigned supreme as the forest's most prevalent inhabitant, aptly symbolizing the longevity that Jadav brought about, but countless other trees took root as well, painting a mesmerizing portrait of biodiversity. For close to three decades, Jadav was the solitary guardian of his forest. With the first rays of sunlight, he would awaken and steer his boat through the tranquil waters to labor in the ecosystem that he had crafted, planting new seeds and nurturing countless saplings. His remarkable work unfolded silently, known only to nearby villagers and the Mising tribe to which he belonged. Seeking neither aid nor permission from governmental authorities, Jadav viewed his efforts as both a necessity and a manifestation of the Mising tradition of reciprocating nature's boundless generosity towards humankind. It was not until 2007 that a wildlife photographer stumbled upon the forest and brought Jadav global recognition. He became known as the "Forest Man of India," a moniker that was conferred to him by the former Indian President Dr. A.P.J. Abdul Kalam.
We gathered in the dappled shade as the day wore on and the forest's embrace grew stronger. I felt a profound connection with the spirit of Jadav, his devotion resounding within my heart. In the flickering light, amidst the whispers of leaves, I realized that his story was more than a tale of triumph over adversity. It was an invitation–a call to arms–for each one of us to take a stand and protect the world we inhabit. The sun began its descent, casting a warm glow upon the landscape. With heavy hearts, we bid farewell to the Molai Forest, carrying with us the essence of Jadav's legacy. His unyielding spirit cast a ray of hope, reminding us that in the face of overwhelming odds, a single seed can birth a forest. This transformative journey led me to vow to become a guardian of nature, a warrior for our planet's survival. The trees in the Molai Forest whispered their secrets to me, and I promised to carry their echoes forward, heralding the name of Jadav "Molai" Payeng–the forest man of India–into the winds of change.