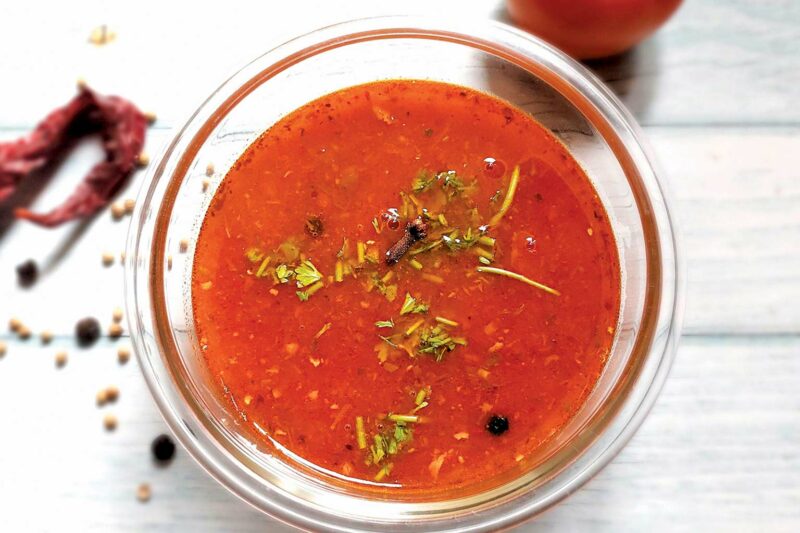 INGREDIENTS
4 to 5 tomatoes
1 tablespoon tamarind

½

inch ginger
4 to 5 garlic pods
5 to 6 coriander stems
1 tablespoon oil

½

teaspoon mustard seeds
1 teaspoon cumin seeds
1 tablespoon urad dal
5 to 6 black peppercorns
2 to 3 cloves
1 bay leaf
Pinch of asafoetida
8 to 10 curry leaves
Kashmiri chilli powder (optional)
Salt to taste
1 tablespoon jaggery
Coriander leaves for garnishing
For the Charu (Rasam) Powder 
Dry roast each separately and then grind together:
2 tablespoons coriander seeds
1 tablespoon cumin seeds
1 teaspoon fenugreek seeds
1 to 2 teaspoons black pepper
3 dry red chillies
1 teaspoon turmeric powder
METHOD
Pressure cook the tomatoes for 2 to 3 whistles and blend them.
Soak the tamarind with lukewarm water for 10 to 15 minutes.
Blend together the ginger, garlic and coriander stems to make a fine paste.
In a kadhai, add the oil. Once it is heated, add the mustard and cumin seeds. Let them splutter and then add the urad dal, black peppercorns, cloves, bay leaf, asafoetida and curry leaves.
Add the ginger-garlic paste, rasam powder and some Kashmiri chilli powder (optional).
Now add the blended tomatoes and tamarind pulp and mix everything well. Add salt, jaggery and water to get the right consistency. Let everything boil together for 5 to 10 minutes.
Turn the heat off, sprinkle some coriander leaves and serve hot with steamed rice.
Mayura Sidharth is a nutritionist, health coach and founder of The Tiny Tiffins. The Tiny Tiffins is a venture that aims to inculcate healthy eating habits in kids. The Tiny Tiffins prepares customised meal and tiffin plans for kids and also provides counselling for parents about eating issues in children. You can reach her on Instagram and Facebook @thetinytiffins