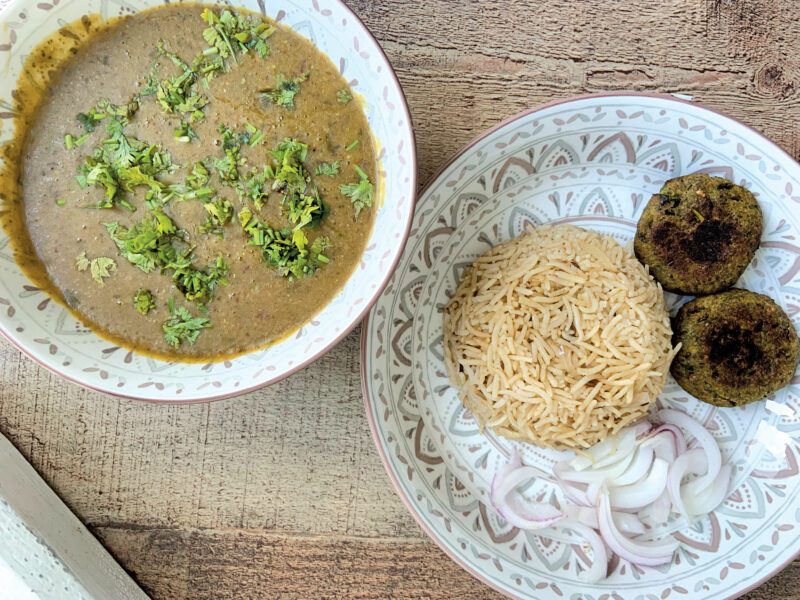 INGREDIENTS
For the Dhansak:
½ cup toor dal (yellow split pigeon peas)

½ cup lal masoor dal (red lentils)

½ cup yellow moong dal (yellow lentils)

3 tablespoons channa dal (Bengal gram)

50 grams red pumpkin, diced

1 medium-sized brinjal, diced

3 to 4 sticks spring onions, diced

75 grams fresh fenugreek leaves

1 tomato, diced

2 tablespoons oil

2 onions, finely chopped

1½ teaspoons sambar powder

3 teaspoons jaggery powder

1 teaspoon turmeric powder
For the Dhansak Masala:
2 Kashmiri red chillies

1 teaspoon cumin seeds

1 teaspoon coriander seeds

1 teaspoon cloves

1 teaspoon peppercorns

¼ teaspoon cinnamon powder

4 cloves garlic

 20 grams ginger

Salt to taste
For the Brown Rice:
1 cup rice of choice, soaked for ½ hour

2 onions, finely sliced

1 teaspoon cumin seeds

2 bay leaves

1 tablespoon ghee or oil

Salt to taste
METHOD
Wash all the lentils and soak them for an hour.

Mix the soaked lentils, vege-tables (except for the finely chopped onions), turmeric powder and salt and add water. Ensure the water is only 1 inch above the ingredients. Pressure cook for 3 whistles, reduce the flame and cook for another
15 minutes.

When done, open the lid and let it cool down a bit. Blend using a hand blender. Keep aside.

Mix all the ingredients for the dhansak masala in a small mixer and grind them to a paste. Add some water if needed.

In a big pan, add the oil and fry the onions until they turn brown. Add the dhansak masala and sambar powder and keep stirring till you get the aroma of the masalas. Add a little water and jaggery powder and keep stirring. Then add the blended lentils and vegetable mix and keep cooking on a low flame for about 10 minutes.

To make the rice, heat ghee in a pan and add the cumin seeds and bay leaves. Once they begin to sizzle, add the onions. Cook until they are well browned.

Once done, add the soaked rice and salt and mix well but very lightly. Cook for about a minute.

Add water; the water level should only be 1 inch above the rice. Cover with a lid and lower the flame. It should be done in 15 minutes. Uncover and check the rice. In case it is uncooked, add a bit more water and cook.

Serve with a side of hara bhara kababs and sliced fresh onions.
Two young mums, Ananta Goyal and Sneha Poddar share the best of their experimental millennial kitchen secrets on Instagram as Two Curious Cooks. Their recipes are flavourful and nutritious and work for the entire family. Mumbai-based Ananta Goyal is a prominent mommy blogger @bumpandbabyy and Singapore-based Sneha Poddar is a finance professional. To know more, follow their Instagram handle @twocuriouscooks

ACTIVITY: What's Their Source?
Look online and name the plants that produce these staples.