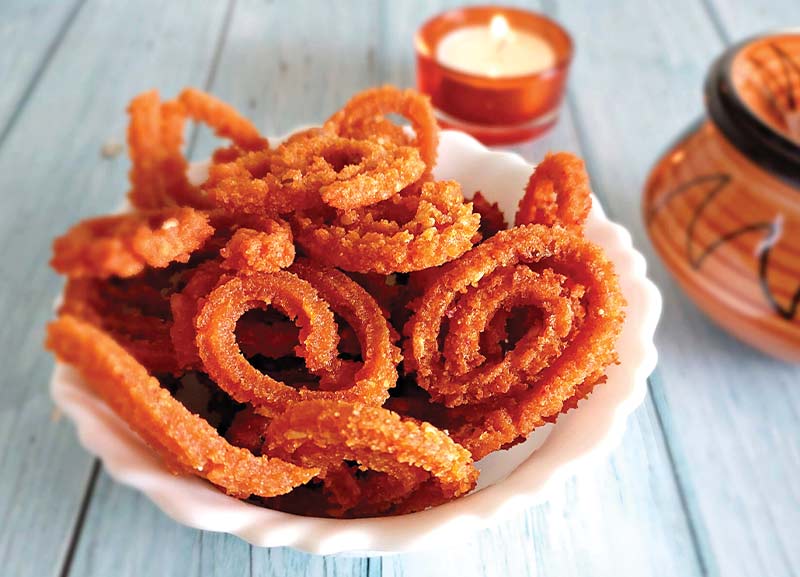 INGREDIENTS
1 cup amaranth (rajgira) flour
1 cup barnyard millet (sama rice)
2 to 3 medium-sized boiled potatoes
1 teaspoon cumin seeds
1 teaspoon white sesame (til) seeds
1 teaspoon red chilli powder
Salt to taste
Cooking oil to deep-fry
METHOD
Lightly dry roast the sama rice for 2 minutes on a low flame.
Grind it to make a fine flour.
Mash or grate the boiled potato.
In a bowl, mix all the ingredients.
Add water only if required to form a dough.
Rest the dough for 10 to 15 minutes.
Heat cooking oil in a kadai to deep-fry the chaklis.
Keep the chakli mould ready. Grease it with oil from the inside.
Fill the mould with the dough and make small chaklis on butter paper.
Once the oil is hot, fry the chaklis on a low to medium flame.
Once they turn golden brown, take them out on a tissue paper to drain the oil. Your chaklis are ready!
Mayura Sidharth is a nutritionist, health coach and founder of The Tiny Tiffins. The Tiny Tiffins is a venture that aims to inculcate healthy eating habits in kids. The Tiny Tiffins prepares customised meal and tiffin plans for kids and also provides counselling for parents about eating issues in children. You can reach her on Instagram and Facebook @thetinytiffins