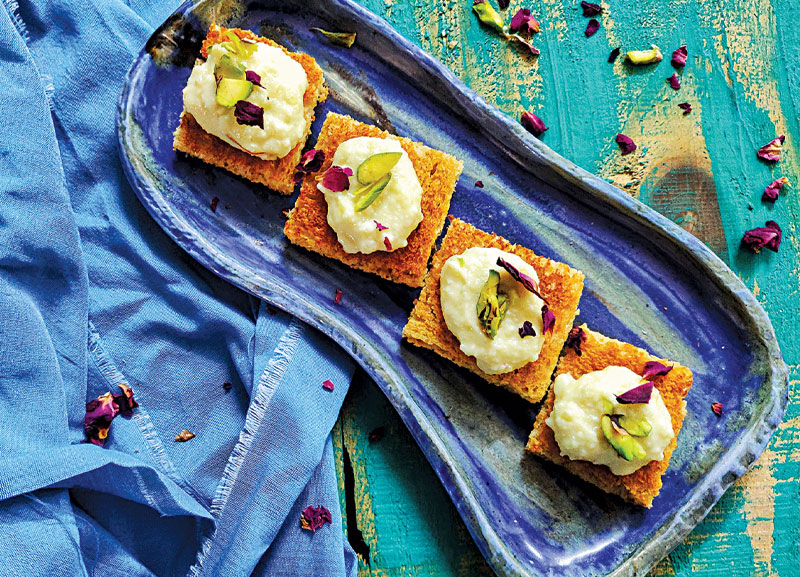 INGREDIENTS
½ cup almonds, soaked 

1 cup milk

3 to 4 strands kesar (saffron)

½ teaspoon cardamon powder

2 tablespoons raisins, soaked

2 whole-wheat bread slices

½ teaspoon pistachios

1 teaspoon ghee
METHOD
De-skin the soaked almonds and grind them into a fine paste.

Sauté the almond paste in ghee for 5 minutes.

Add the milk to the almond paste and then reduce it on a low flame till it is thick.

Mix the kesar in 1 tablespoon of the hot milk and mix it into the reduced mixture along with the cardamom powder. Mix well.

Make a paste of the raisins and mix it into the milk. Give it a quick stir and take it off the flame. The rabri thickens as it cools down.

Toast the bread slices and then cut them into small squares. Put the badam rabri on each square and spread it. Garnish each piece with pistachios and serve.
Rakshita Dwivedi is an entrepreneur who runs Recipe Dabba, which empowers kids with healthy food choices and uses cooking as a gender agnostic life skill. She has won many awards including the Orange Flower Award, Women Disruptors Award, Homepreneur Award and Web Wonder Women awarded by the Ministry of Women and Child Development. For more recipes, follow her on Instagram @recipe_dabba