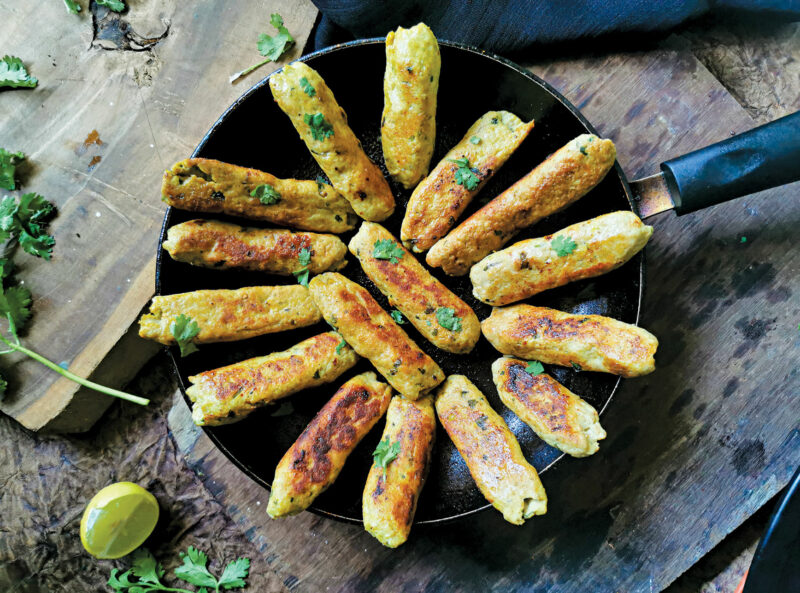 INGREDIENTS
250 grams minced chicken

1 teaspoon garlic paste

1 teaspoon ginger paste

1 onion, chopped

3 green chillies

Coriander leaves, a handful

1 teaspoon red chilli powder

1 teaspoon coriander powder

1 teaspoon garam masala powder

½ teaspoon green cardamom

50 grams butter

1 tablespoon lemon juice

Salt to taste

Skewers, dipped in water for 30 minutes
METHOD
In a blender, add the onion, green chillies and coriander leaves and make a thick paste.

Add the minced chicken to it and blend well. Place the mix in a bowl and add the spices. Mix well.

To it, add the melted butter and lemon juice and combine well. Let it rest for 30 minutes.

Apply some butter on your hands and start sticking the mixture onto the skewers.

Place the skewers in an oven at 180°C or heat a pan with some butter in it and place the skewers on it.

Roast the kebabs for 6 to 7 minutes. Serve them with green chutney and sliced onions.
Sweeny Dias from MumbaiFoodScenes is an active Instagram blogger. She is on a sojourn to explore the culinary world as a Mumbaikar and tells her followers what makes it to the final cut. MumbaiFoodScenes guarantees instant food cravings—from humble eateries to fine-dining luxuries, she covers it all. Follow her on Instagram @mumbaifoodscenes.