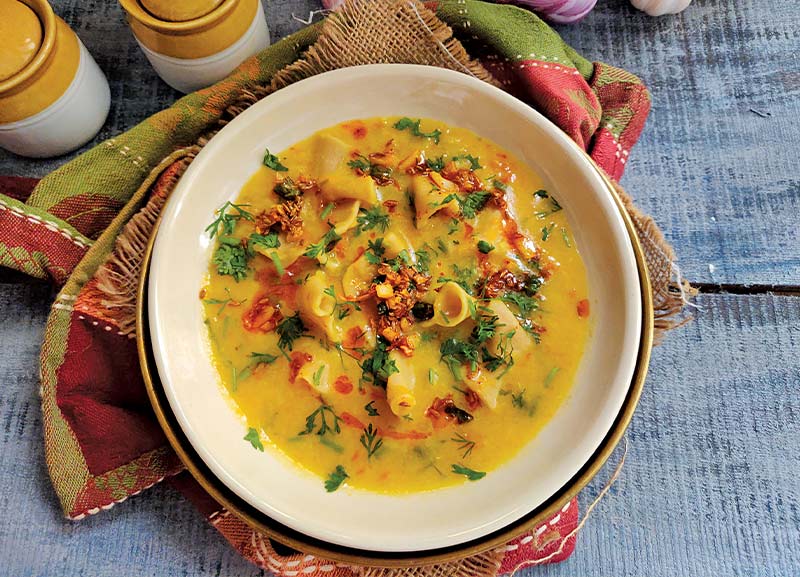 INGREDIENTS
½

cup toor dal (arhar dal)

½

teaspoon turmeric powder

½

cup whole wheat flour
1 teaspoon carrom seeds

¼

teaspoon asafoetida
1 teaspoon cumin seeds
1 teaspoon chopped garlic
1 onion, chopped
1 green chilli, chopped (optional)

¼

teaspoon red chilli powder
2 tablespoons coriander leaves
2 tablespoons ghee
Salt to taste
METHOD
Wash and soak the toor dal for 30 minutes before you pressure cook it with salt and turmeric powder in 3 cups of water. This takes around 4 to 5 whistles.
Meanwhile, take the whole wheat flour and add a little salt, carrom seeds and 1 tablespoon of ghee. Knead the dough with some water and let it sit for 15 minutes.
Now make small balls from the dough and roll them out into small circles that are not too thin or too thick. With each circle, take 2 edges and press them together. Then press the other 2 edges together too. You will end up making flower-shaped dumplings.
Blend the cooked dal and bring it to a boil. Gently add the dulhas or dumplings into the dal and let them cook on a medium flame for 10 minutes or until they are done.
Place the dal with the dulhas in a serving bowl and separately make a tempering of ghee, asafoetida, cumin seeds, garlic, onions and green chillies. Once the onion and chillies get some colour, add the red chilli powder. Now, pour the tempering into the dal that's already in the serving bowl.
Garnish with fresh coriander and serve.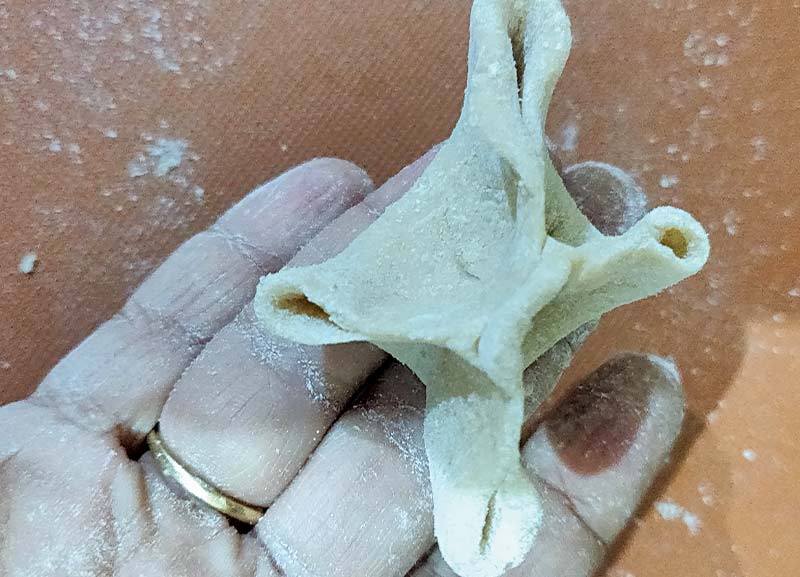 Rakshita Dwivedi is an entrepreneur who runs Recipe Dabba, which empowers kids with healthy food choices and uses cooking as a gender agnostic life skill. She has won many awards including the Orange Flower Award, Women Disruptors Award, Homepreneur Award and Web Wonder Women awarded by the Ministry of Women and Child Development. For more recipes, follow her on Instagram @recipe_dabba

ACTIVITY: What's In a Name?
What do you call the following ingredients in Hindi and your mother tongue?