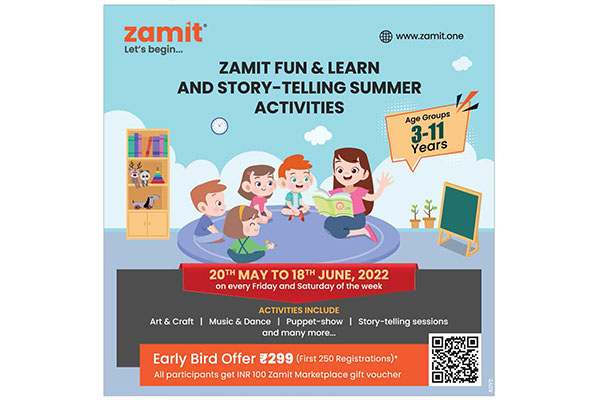 Target Group : 3 to 6 years and 6 to 11 years
Zamit invites children of ages 3 to 6 years and 6 to 11 years to participate in a series of fun & learning activities and story-telling sessions over the summer months from the comfort of their homes.
There are a number of engaging activities planned; participants will have fun, learn and stay constructively engaged through the sessions.
The aim is not only to constructively engage the child over the holidays, but to also sharpen skills the child may already have.
The Fun & Learn Summer Activities and Story-telling Summer Activities will have 8 Sessions each, with each session lasting 1 hour.
The activities include Art, Craft, Music & Dance, Cold Cooking, Calligraphy, Doodle Art, Puppet-show, Fun with Science and Story-telling Sessions. Children are engaged with new activities every day.
The sessions will take place from May 20 to June 18, 2022 on every Friday and Saturday of the week.
The activities will help the participants enhance:
(a) Listening skill
(b) Creative skills
(c) Motor & skill development
(d) English language skills
Prizes:
3 lucky participants get a surprise gift from Zamit.
All participants get INR 100 Zamit gift vouchers as participation prizes.
All participants get participation e-certificates.
Registration Details: 
Registration fees is INR 399/- only
Early Bird Offer:
First 250 registrations get INR 100 discount! Register Now!
Visit www.zamit.one or Download the Zamit App today.
Participate in the Antakshari Competition today and win lots of exciting prizes. Registration is FREE!
Watch out for more such exciting competitions on Zamit in May and June, 2022!
*Paid Partnership with Zamit