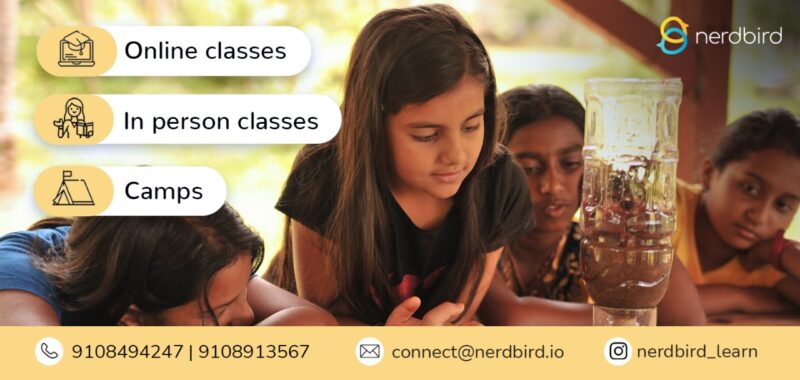 GREEK MYTHOLOGY 
Explore myths and legends of Greek heroes, gods and goddesses. Learn about Gorgon Medusa, Apollo, Nike and others as you pick up some valuable tips to become engaging storytellers. 
COMEDY WRITING 
Create characters which have comedic elements, cook up funny situations and learn the techniques involved in comedy writing.
BUILD AND UNDERSTAND ECOSYSTEMS: TERRARIUM IN A JAR
Plan, build and observe your very own terrarium to understand how all living and non-living things together create a thriving ecosystem.
CLIMATE CHANGE: THE TRUTH, THE CHALLENGE, THE SOLUTION
Understand the truth about climate change, its effects and the challenges we face and learn how we can be a part of the solution.
VIRTUAL ADVENTURES WITH YOUR FAVOURITE DISNEY CHARACTERS
Through virtual reality, fun interactive games and art, learn about new countries with your favourite Disney characters!
Explore these and many more fantastic learning experiences on nerdbird.io
You can also call +91 91084 94247 or +91 9108913567 to know more.
*Paid Partnership with Nerdbird