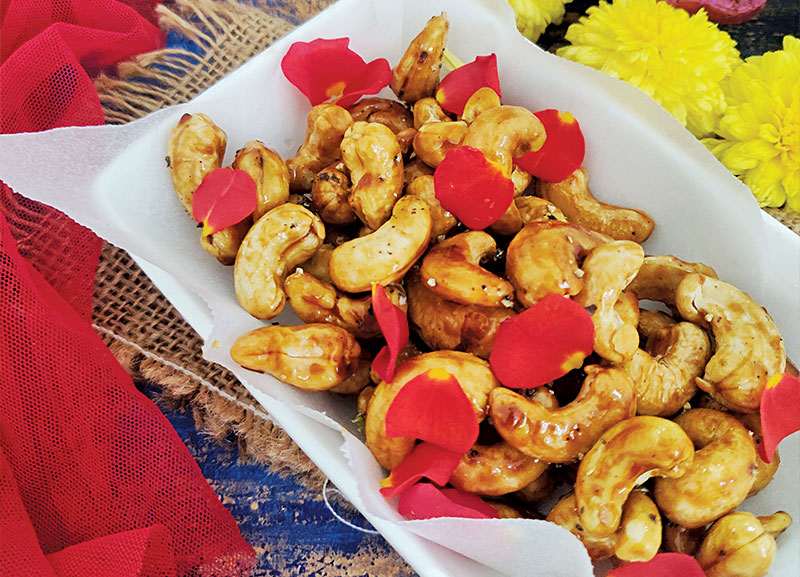 INGREDIENTS
1 cup cashews
1 teaspoon ghee
1 teaspoon salt
4 tablespoons jaggery
1 tablespoon tamarind paste

¼

teaspoon black pepper
METHOD
Mix the ghee and salt with the cashews and bake them at 180˚C for 15 minutes. Let them cool.
In a pan, add the jaggery and tamarind paste with 3 tablespoons of water and heat it.
Mix it as it bubbles up and when it is a thick sauce, add the cashews to it. Once all the cashews are well coated, take them out on butter paper. Space them out so they don't stick to each other.
Sprinkle some black pepper on them when they are still hot.
Serve once cool or store in a refrigerator in an airtight container.
Rakshita Dwivedi is an entrepreneur who runs Recipe Dabba, which empowers kids with healthy food choices and uses cooking as a gender agnostic life skill. She has won many awards including the Orange Flower Award, Women Disruptors Award, Homepreneur Award and Web Wonder Women awarded by the Ministry of Women and Child Development. For more recipes, follow her on Instagram @recipe_dabba

ACTIVITY: Know What You Eat!
Recognise the ingredients and tick the right column.