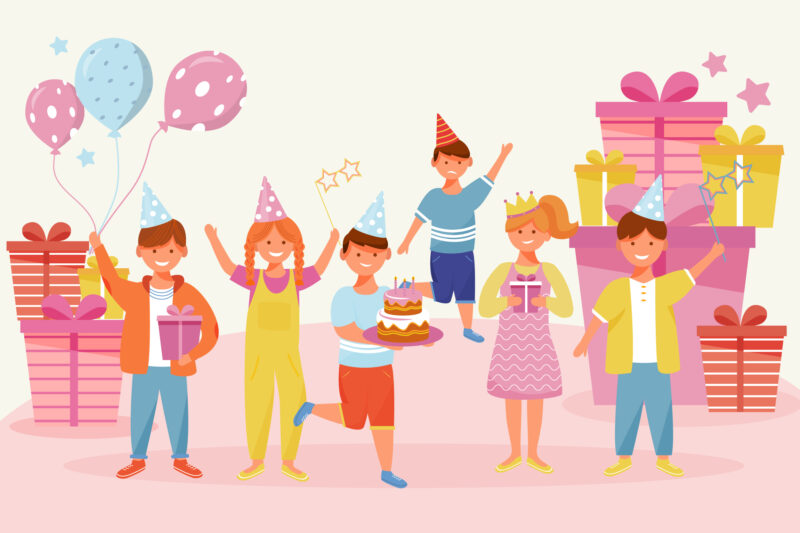 It was a bright, sunny morning. Excitement was in the air and how would it not be? It was my best friend Haasini's birthday! I was ecstatic to spend time with her. I loved to hang out with her. When I arrived at the party, I saw a boy about my age, asleep, being carried everywhere by his mom.
All my friends were enjoying the party. I didn't think much of the boy. I got to know that the boy's name was Yash. We were schoolmates too! After a while, Yash woke up and he looked like he wanted to get down and mingle with the kids but his mother still didn't let him down. "Alright kiddos! Its time to cut the cake! Everyone gather here!" Haasini's mom called out. All the kids rushed to the table. Haasini was on cloud nine! We began clapping and singing to the birthday girl.
Haasini cut the cake and after that we all danced and pranced. Yash looked excited and he too clapped and sang. Yash started to get restless so his mother put him down on the floor but instead of walking, he started to crawl! I was perplexed to see a six year old boy still not being able to walk! It was only then when I realised that Yash has a permanent disability. He had congenital limb defect and both his legs were deformed. I went up to him and asked, "Don't you ever feel disheartened? Or feel like you would never be able to do anything on your own?" He nodded and replied with- "Yes, sometimes I do feel like that. But whenever I do, I just remember that there are people out there who are less fortunate than me and that I should be grateful for what I have."
His words were so overwhelming! Inspite of all the hardships he had to face, he was always cheerful. I never saw him whining about his disability or having a dull moment in his life.
This incident inspired me to look at life in a positive way, come what may. I am reminded of this quote by Buddha- "Let us rise up and be thankful, for if we didn't learn a lot today, at least we learned a little, and if we didn't learn a little, at least we didn't get sick, and if we got sick, at least we didn't die; so, let us all be thankful." We encounter challenges in every step of our lives. The onus is on us to accept them and sail through. On that day, I learnt a valuable lesson which was to be happy, thankful and contented with what we have. Life is a priceless gift, so enjoy every moment of it.