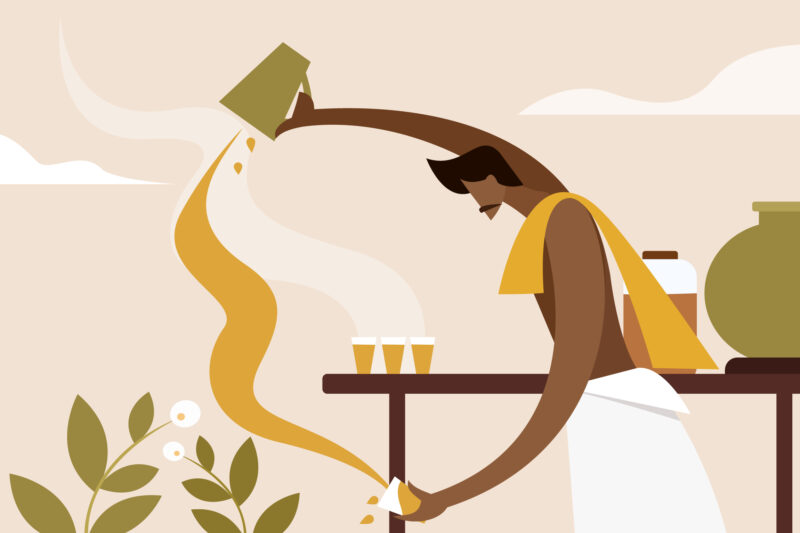 There is something about tea shops more than tea. I am often times led to wonder if there is an invisible aura around tea shops that attracts people from all walks of life towards it. Waking up in the morning has been a part and parcel of my life since long and almost every day, I am witness to the opening of this smaller world in itself, a part of the larger and fast- paced world.

Early at the break of the day, preparations begin to host customers through the day till late evening. Whether summer, monsoon or winter, you will always find a flock of people surrounding the weeny, tuk- tuk shop with warm, generous cups of tea. Tea shops, however, seldom find any significance in the present age. The old, grizzled ones are the majority population finding the joy in these shops. If you pass by a tea shop, you will never find it in silence. A little bulb hanging from the beams, simple gadgets to produce six- seven cups of tea and simple, wooden benches- yet the territory is constantly busy and teeming with people.

I have had the opportunity to have chai from these shops more than once in my life. I shall not compliment the tea as it is, but shall commend on the varied scenes that spring up during a chai- break at these shops. So many conversations are exchanged and so many discussions. Heated political debates, making business deals, and philosophical orations- all go around in these little stalls under the blazing sun. Rightly did someone refer to these chai- dukaans as conclave of ideas. Unfortunately, these conversations have almost vanished, but tea business is still lucrative (although I do not anticipate setting up a tea stall anytime soon).

As many things have been replaced by modern and improved versions, tea stalls have become a victim of modernization too. Men and women with all types of modern devises (on the way to getting strapped to the bodies) prefer coffee- shops. Coffee shops which you will find at nearly every bend of road in the cities are popular among people today. I do not fret to visit one of them anytime, but I feel something is lost in these new replacements.

Although some of these coffee shops strangely supply chai, the essence of tea stalls is not found here. The joy of exchanging conversations or the strange comfort obtained by snapping the clay- teacups to the ground are not found in these new coffee shops. Dropping the tea cup at a coffee shop may prove to be unfruitful for your pocket.

"They reflect the self-obsessed era", said an old professor, a close acquaintance of mine. He is, indeed, true. There is absolutely no conversation, no exchange of words, no scope for any mutual relation. No one enunciates any conversation. People shall occasionally stare at you with arched eyes. Luxury and self- conceit- these are, perhaps the words that adorn the age.