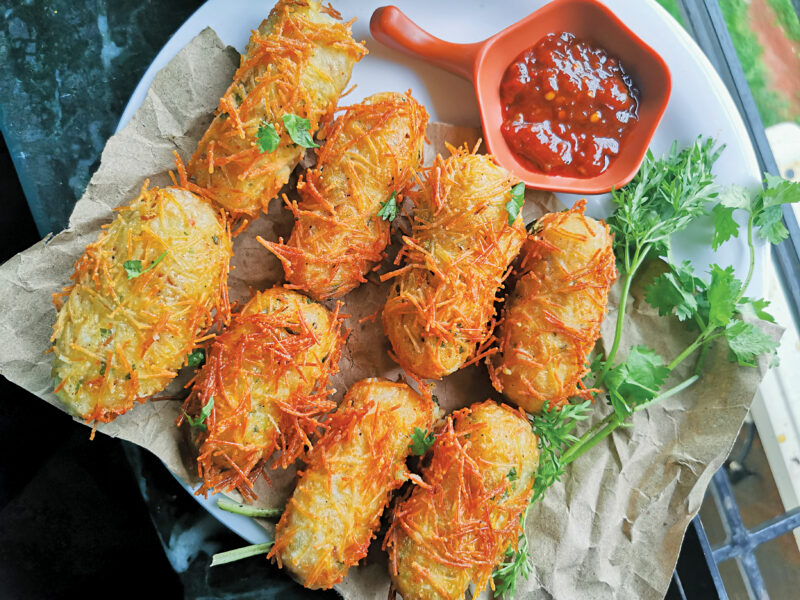 INGREDIENTS
350 grams boiled potatoes

2 to 3 tablespoons coriander leaves, finely chopped

½ inch piece ginger, finely chopped

2 green chillies, finely chopped

Salt to taste

½ teaspoon cumin powder

1 teaspoon coriander powder

1 teaspoon lemon juice

1 teaspoon turmeric powder

¼ teaspoon red chilli powder

¼ teaspoon amchur powder

¼ teaspoon chaat masala

Oil for frying

1 cup sevai or vermicelli, roasted and crushed

1 tablespoon cornflour

¼ cup breadcrumbs (optional)

Oil to deep fry
For the batter:
½ cup refined flour (maida)

5 tablespoons water

½ tablespoon black pepper powder

Salt to taste
METHOD
Heat the oil in a pan, add the ginger and cook for a minute.

Add the boiled potatoes, green chillies, salt and all the masalas and mix well.

Turn off the flame and let it cool down.

Transfer it to a bowl, add the coriander leaves, cornflour and breadcrumbs and mix well.

Take a small portion of the mixture and shape it into a cutlet. Do the same for the rest of the mix.

In a bowl, add the flour, water and black pepper powder and make the batter; its consistency should be like dosa batter.

Heat the oil in a vessel, dip the cutlets into the batter, roll them in the crushed vermicelli and fry them in hot oil.

Your potato vermicelli cutlets are ready to serve. Serve with tomato ketchup or green chutney.
Sweeny Dias from MumbaiFoodScenes is an active Instagram blogger. She is on a sojourn to explore the culinary world as a Mumbaikar and tells her followers what makes it to the final cut. MumbaiFoodScenes guarantees instant food cravings—from humble eateries to fine-dining luxuries, she covers it all. Follow her on Instagram @mumbaifoodscenes.