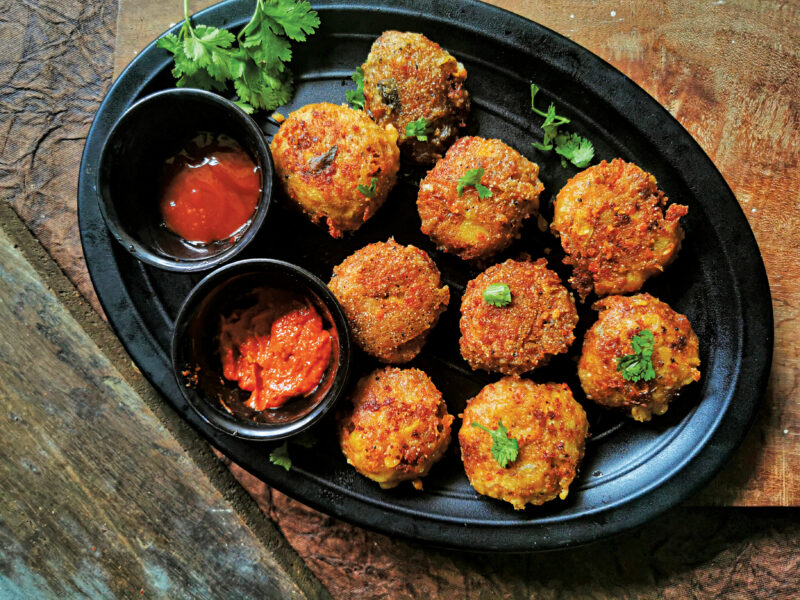 INGREDIENTS
100 grams soya chunks

10 grams ginger

2 tablespoons coriander leaves, chopped

1 teaspoon mint leaves

4 mushrooms, chopped

3 tablespoons sweet corn

1 green chilli, chopped

3 multigrain bread slices

Salt to taste

1 tablespoon oil for shallow frying
METHOD
Soak the soya chunks for 10 minutes and then boil them till the chunks swell up. This takes approximately 5 to 7 minutes.

Drain the water and then squeeze all the excess water out of the chunks.

Put the soya chunks into a blender jar, add the mushrooms, corn, green chilli, ginger, mint leaves, coriander leaves and salt to taste and blend to a coarse paste. Place the paste in a big bowl.

In another blender jar, break the bread slices into smaller chunks and whizz them to make fresh soft breadcrumbs.

Keep 3 tablespoons of breadcrumbs aside and mix the rest in the soya and vegetable paste. Mix well to make a smooth mixture.

Shape this into round cutlets. Once they are all done, roll the cutlets in the remaining breadcrumbs, pressing the breadcrumbs into the soya cutlets. This will yield crispy cutlets.

In a pan, heat the oil and shallow fry the cutlets over a medium heat.

Once golden brown on the underside, flip them over and cook the other side till crispy.

Serve these delicious protein-rich soya cutlets with tomato ketchup or green chutney.
Sweeny Dias from MumbaiFoodScenes is an active Instagram blogger. She is on a sojourn to explore the culinary world as a Mumbaikar and tells her followers what makes it to the final cut. MumbaiFoodScenes guarantees instant food cravings—from humble eateries to fine-dining luxuries, she covers it all. Follow her on Instagram @mumbaifoodscenes.

ACTIVITY: It's an Oily Affair
List any 10 plants that are used to produce cooking oil.