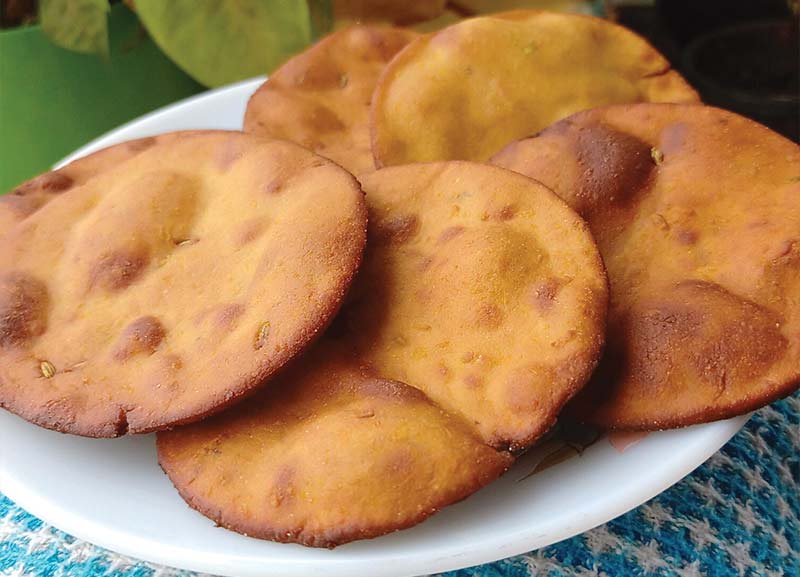 INGREDIENTS
1 cup grated pumpkin

½

cup grated or powdered jaggery
2 to 3 tablespoons rice flour
Pinch of salt

½

teaspoon nutmeg powder

½

teaspoon cardamom powder
1 teaspoon coarsely pounded fennel seeds (optional)

½

to 1 cup wheat flour, as required
1 teaspoon ghee
Oil to deep-fry
METHOD
Add ghee to a thick-bottomed pan.
Add the grated pumpkin and let it simmer for 2 to 3 minutes with the lid on.
Once the pumpkin becomes mushy, add the jaggery and mix well. Let the mixture cook until the jaggery is completely dissolved. This takes 3 to 4 minutes.
Turn the heat off. Once the mixture cools down, add the rice flour, nutmeg powder, cardamom powder, fennel seeds and salt.
Add just enough wheat flour to form the dough. Do not add water while making this dough.
Rest the dough for 10 minutes.
In a kadhai, add cooking oil to deep-fry the pumpkin puris.
Roll small puris (thicker than chapatis).
Once the oil is hot, fry the puris one by one till they are puffed and get some colour on them. Take them out on a tissue paper to remove the excess oil.
Enjoy these tasty puris with lemon or mango pickle.
Mayura Sidharth is a nutritionist, health coach and founder of The Tiny Tiffins. The Tiny Tiffins is a venture that aims to inculcate healthy eating habits in kids. The Tiny Tiffins prepares customised meal and tiffin plans for kids and also provides counselling for parents about eating issues in children. You can reach her on Instagram and Facebook @thetinytiffins