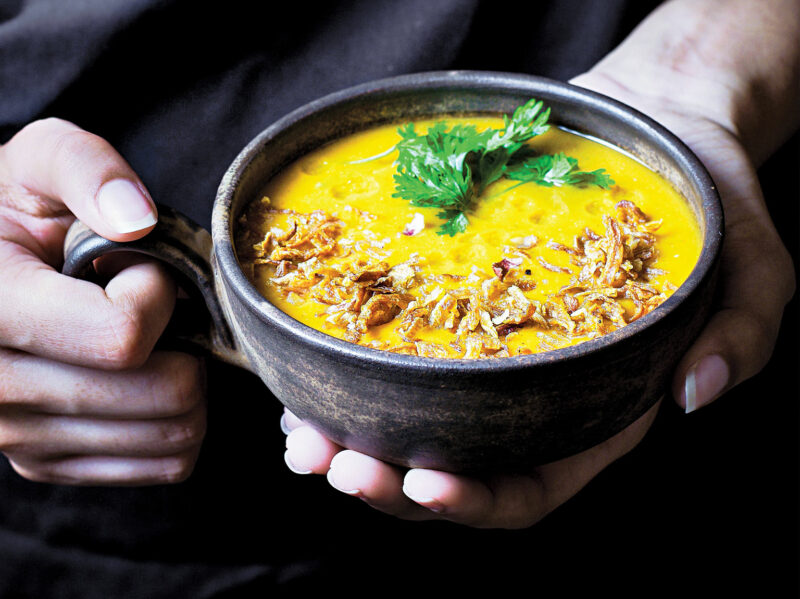 INGREDIENTS
1 cup masoor dal, cooked in 4 cups water
1 medium-size onion, chopped
1 medium-size tomato, chopped
10 garlic cloves, chopped
1 inch ginger, crushed
1 teaspoon cumin seeds
1 teaspoon Kashmiri chilli powder

½

teaspoon turmeric powder

½

teaspoon red chilli flakes
1 tablespoon oil
Coriander leaves
Salt to taste
METHOD
In a pan, add the oil and sauté the ginger, garlic and onion till golden brown.
Add the cumin seeds, chilli powder, red chilli flakes and turmeric powder and sauté well.
Into this mixture, add the tomatoes and allow them to cook for a while.
Add the cooked dal with all the water.
Use a hand blender to blend the mixture.
Take it out in a bowl and garnish it with some coriander leaves. You could also add some fried onions. Your soup is ready.
Manju Jisto is a former learning support teacher who has turned to food photography and food blogging; she is also a health coach. She currently lives in Dubai, UAE. She firmly believes that healthy eating shouldn't be boring. Follow her on Instagram @tealthy_

Make a list of any 10 chillies found in India and the state to which they belong.
Example: Name of Chilli – Bydgi; State – Maharashtra