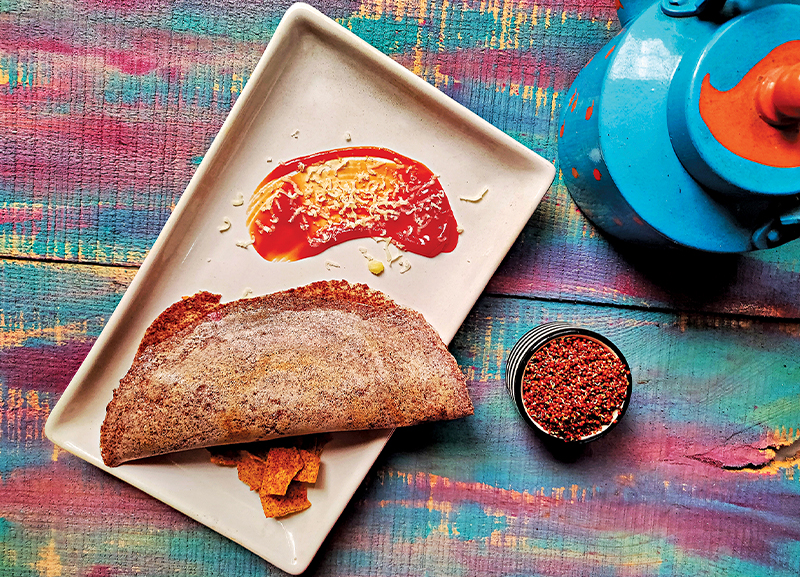 INGREDIENTS
1 cup sprouted ragi

½

cup rice, soaked for 2 hours
1 teaspoon fenugreek seeds, soaked for 2 hours
1 green chilli
2 to 3 cloves of garlic
1 teaspoon roasted cumin seeds
Salt to taste
Oil for cooking

½

onion, cut horizontally
METHOD
Place the sprouted ragi in a grinder, add some water and make a paste of it. Keep it aside.
Next, make a paste of the rice and fenugreek seeds.
Now, add the ragi paste to the rice mix, add the chilli, garlic, cumin seeds and salt and make a fine paste.
Add water as required; the consistency of the batter should be thick enough to make dosas. Leave the batter covered for 30 to 60 minutes.
Take a dosa pan and smear it with some oil with the help of half a horizontally-cut onion.
Pour a large ladleful of batter and spread it evenly to form a circle.
Let the dosa cook till it leaves the sides.
Fold it, take it off the pan and serve it with chutney.
Rakshita Dwivedi is an entrepreneur who runs Recipe Dabba, which empowers kids with healthy food choices and uses cooking as a gender agnostic life skill. She has won many awards including the Orange Flower Award, Women Disruptors Award, Homepreneur Award and Web Wonder Women awarded by the Ministry of Women and Child Development. For more recipes, follow her on Instagram @recipe_dabba