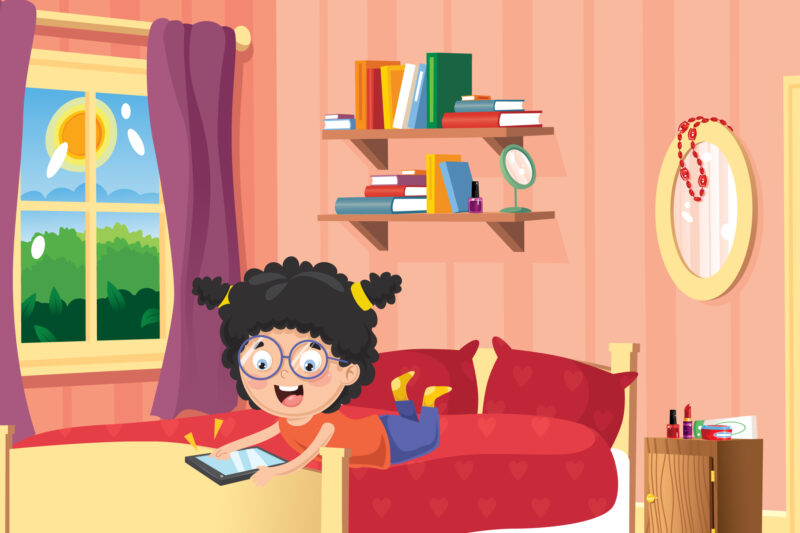 The Prisoner of Lies
There was a little girl named Nayra, who used to attend her classes using a tablet. One day she woke up and then attended her online classes for three hours. Then she watched some videos on YouTube for half an hour. Then she had to eat her lunch and do some activities downstairs. But when she went downstairs, she forgot to put the tablet on the sleep mode. She was eating food and doing some other activities for an hour. When she came upstairs, to her horror she remembered that she had left the tablet on! She said, "Oh no! I forgot to put my tablet on sleep mode!" She was so confused and scared of what her mother would say when she came home from work. Her mother used to monitor her screen viewing timings on the tablet every day.
Clueless about how to overcome the situation that may arise in the evening, she went to the King of Lies. He said, "Hello little girl! Why are you here?" Nayra said, "I am here because I forgot to put my tablet on sleep mode. My screen timing is now almost 5 hours! My mother will be very angry at me when she finds out that I watched the screen for so long today." He replied, "Well! Look in the mirror". When Nayra looked into the mirror she saw that she lied to her mother. She told her that her brother was using her tablet after the classes, after that her brother tried to cover up the incident and he gets scolded instead of her. Her mother was nice to Nayra. But as soon as she gets out of this situation she falls into a hole and finds herself in a different place. She hears the voice of the King of Truth. He said, "The King of Lies has lied! Everyone in his kingdom lies! Let me show you what would happen if you did what he said."
She saw that she was getting scolded by her mother even more; when she found out she framed her brother falsely. Nayra was shocked to see that. The King of Truth asked her to see another mirror that showed what would happen if she would have said the truth. She saw that she told the truth to her mother and explained everything. Her mother excused her and appreciated her for telling the truth. Her mother bought her favourite strawberries! Nayra listened to the King of Truth.
When her mother came home, she told her what happened honestly. It was true what the King of Truth had said. She promised her mother that from now on, she will always tell the truth. As truth makes you fearless, gives freedom from guilt, and makes you confident.
Moral of the story: Always tell the truth.