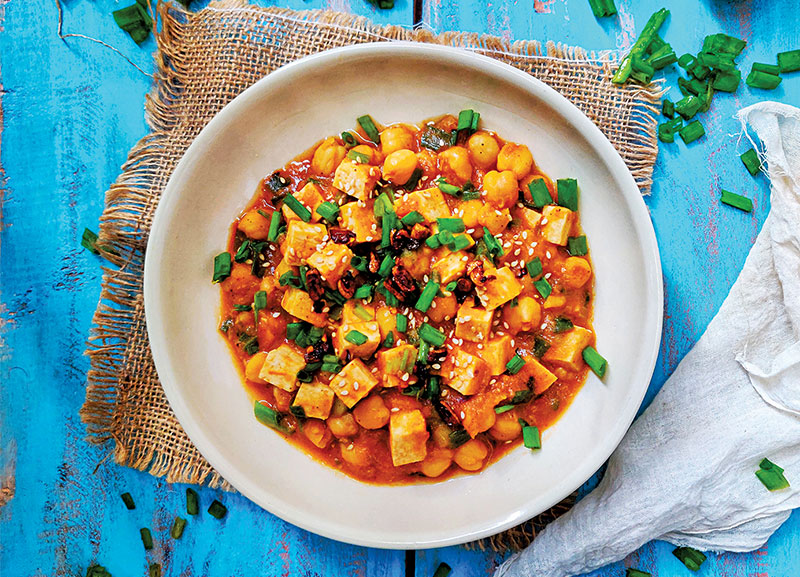 INGREDIENTS
1

½

cups boiled chickpeas

1 cup diced tofu

1 green chilli, chopped

1 tablespoon chopped garlic

½

cup chopped shallots

1 red tomato, chopped

1 tablespoon tomato puree

2 cups chopped green onions

¼

teaspoon chilli flakes

¼

teaspoon black pepper powder

¼

teaspoon chilli powder

1 teaspoon jaggery powder

1 teaspoon chilli sauce

1 teaspoon soya sauce

1 tablespoon lemon juice

½

teaspoon sesame seeds

½

cup vegetable stock or water

1 teaspoon oil

Salt to taste
METHOD
To make the masala, heat some oil, add the green chilli and garlic and caramelise them. Set aside a few caramelised garlic pieces for the garnish.

To the same pan, add the shallots and sauté for a minute. Add the chopped tomato and cook till tender.

Now add chilli flakes, black pepper powder, chilli powder and salt and cook.

Add the tomato puree and jaggery along with chilli sauce and soya sauce.

After a minute of cooking, turn off the flame and cool. Make a paste of the cooked masala along with 2 to 3 tablespoons of boiled chickpeas.

Pour the paste back into the pan and bring it to a simmer. Add the boiled chickpeas and diced tofu.

Add salt and adjust the seasoning, add some vegetable stock or water and when it starts bubbling, add the chopped green onions and lemon juice and turn off the flame.

Garnish with the caramelised garlic that was set aside and sesame seeds.

Serve with toast, roti or fried rice. Your protein-rich meal is ready.
Rakshita Dwivedi is an entrepreneur who runs Recipe Dabba, which empowers kids with healthy food choices and uses cooking as a gender agnostic life skill. She has won many awards including the Orange Flower Award, Women Disruptors Award, Homepreneur Award and Web Wonder Women awarded by the Ministry of Women and Child Development. For more recipes, follow her on Instagram @recipe_dabba

ACTIVITY: It's Hot Hot Hot!
Name 5 of the spiciest chillies found in India.