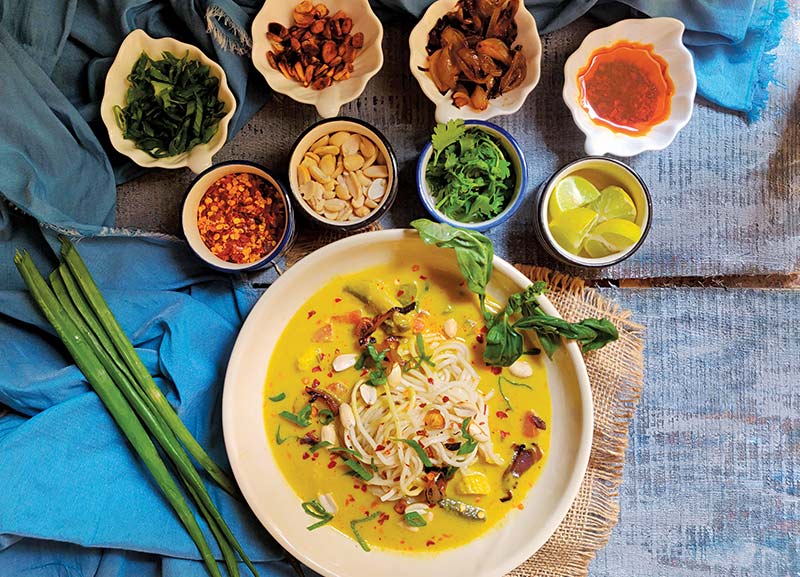 INGREDIENTS
2 tablespoons chopped lemon grass
1 tablespoon ginger paste
1 tablespoon garlic paste
1 tablespoon sesame oil
1 teaspoon turmeric powder
4 tablespoons chickpea flour (gram flour or besan)
1 cup coconut milk
1 cup vegetable stock

½

cup halved mushrooms
1 cup chopped zucchini
1 cup blanched broccoli

½

cup boiled baby corn
2 cups boiled noodles
Salt to taste
Toppings:
1 onion, sliced and caramelised
2 tablespoons fried garlic
2 tablespoons chilli oil

½

cup chopped green onions

¼

cup roasted peanuts
1 lemon
2 tablespoons chopped coriander
METHOD
Make a paste of the lemon grass, ginger and garlic.
Heat the sesame oil in a wok and sauté this paste till it is cooked. Then add the turmeric to it and cook for a minute.
Dry roast the chickpea flour and add it to the wok. Cook till it's nicely done.
Lower the flame and add the coconut milk. Keep stirring to avoid any lumps. Add some stock as it thickens up.
Once it bubbles up, start adding the vegetables with some salt and let them cook on a slow flame.
Once the vegetables are done, pour the curry out into a serving dish.
To serve, take a deep single-serving bowl and add the noodles. Then add the curry and top it with the onions, garlic, chilli oil, chopped green onions and peanuts. Squeeze some lemon juice and add chopped coriander. Your khow suey is ready!
The Khow Suey Connection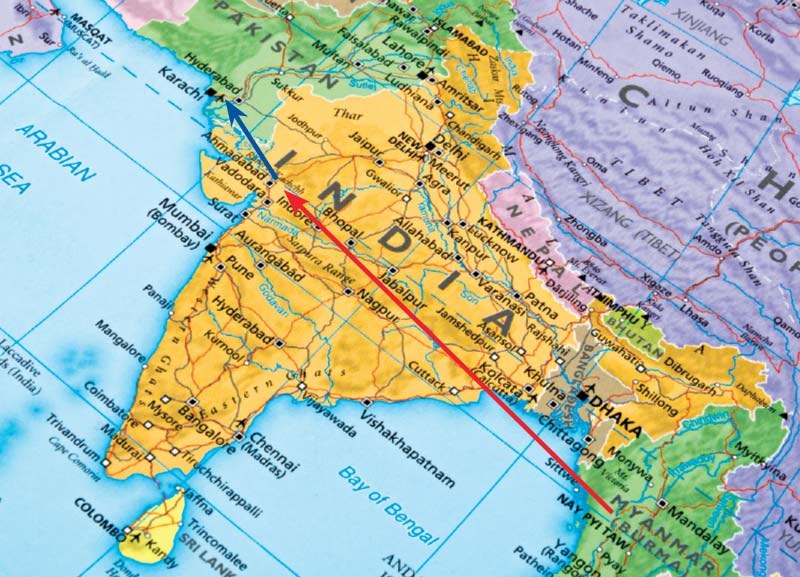 Khow suey, also known as khao suey, khao soi or khausa, is often served at parties in Indian homes as a one-pot dish, paired with a long list of accompaniments. What's more, its history is as interesting as the toppings it is served with!
Khow suey is believed to have come to India via Gujarati business owners that were deployed in Burma during World War II. The thick coconut soup-noodle combo made its presence felt in Gujarat first, before it moved to other parts of the country. In fact, it is also in Gujarat that it became a vegetarian dish with paneer, and later tofu, taking the place of meat and prawns. It is also believed that after partition, the Memon community from Gujarat that moved to Pakistan created an adaption of this dish that is known as khausa.
A dry version of this dish is sold as a snack on food carts in Yangon (formerly known as Rangoon). This is called shwedaung khao suey and it is almost like a crunchy salad.
Rakshita Dwivedi is an entrepreneur who runs Recipe Dabba, which empowers kids with healthy food choices and uses cooking as a gender agnostic life skill. She has won many awards including the Orange Flower Award, Women Disruptors Award, Homepreneur Award and Web Wonder Women awarded by the Ministry of Women and Child Development. For more recipes, follow her on Instagram @recipe_dabba

List 10 toppings you would like to add to your khow suey.