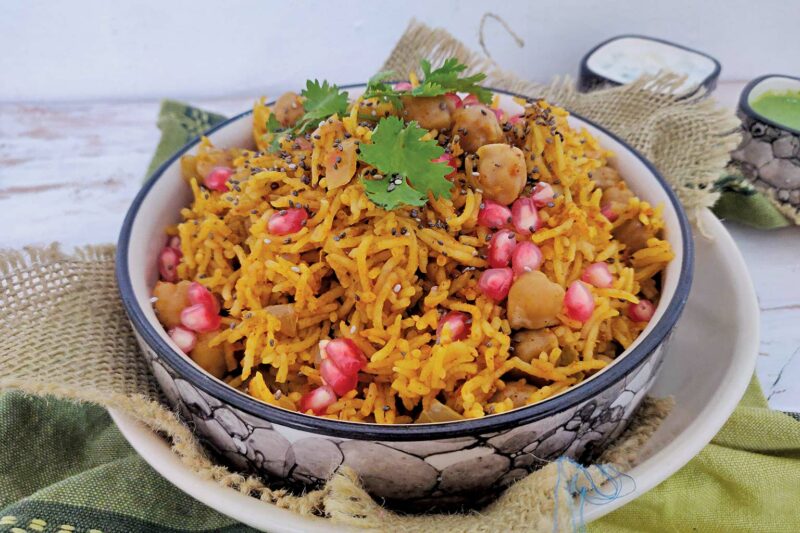 INGREDIENTS
2 cups boiled chole
1 cup rice, pre-soaked
1 green chilli
1 onion, sliced
1 teaspoon ginger paste
1 teaspoon garlic paste
1 tomato, chopped

¼

teaspoon cumin seeds

¼

teaspoon fenugreek seeds

¼

teaspoon onion or nigella seeds

¼

teaspoon fennel seeds

¼

teaspoon mustard seeds
1 bay leaf
4 peppercorns
4 cloves
1 teaspoon turmeric powder
1 teaspoon coriander powder
1 teaspoon cumin powder

¼

teaspoon red chilli powder
1 teaspoon amchur powder
1 tablespoon chole masala
1 teaspoon jaggery powder
1 tablespoon pickle masala
2 cups vegetable stock or water
1 teaspoon pomegranate pearls
2 tablespoons chopped coriander leaves
1 teaspoon chia seeds
1 tablespoon mustard oil
Salt to taste
METHOD
In a wok, heat the mustard oil and add all the whole masalas—cumin seeds, fenugreek seeds, nigella seeds, fennel seeds, mustard seeds, bay leaf, peppercorns and cloves. Cook till the seeds pop and are fragrant.
Now add the green chilli and sliced onions and let the onions caramelise. Add the ginger and garlic pastes and cook well. Add the tomatoes and cook till the tomatoes are soft and done.
Add the turmeric powder, coriander powder, cumin powder, red chilli powder, amchur powder and chole masala and mix well.
Add a little jaggery powder, the boiled chole and soaked rice. Mix well.
To this add the pickle masala or any other homemade pickle and then add the vegetable stock or water and let it cook on a slow flame till the rice is done.
You can serve this garnished with pomegranate pearls, coriander leaves and chia seeds along with some green chutney and aloo raita.
Rakshita Dwivedi is an entrepreneur who runs Recipe Dabba, which empowers kids with healthy food choices and uses cooking as a gender agnostic life skill. She has won many awards including the Orange Flower Award, Women Disruptors Award, Homepreneur Award and Web Wonder Women awarded by the Ministry of Women and Child Development. For more recipes, follow her on Instagram @recipe_dabba

List 1 vitamin and 1 mineral that you get from the following ingredients.