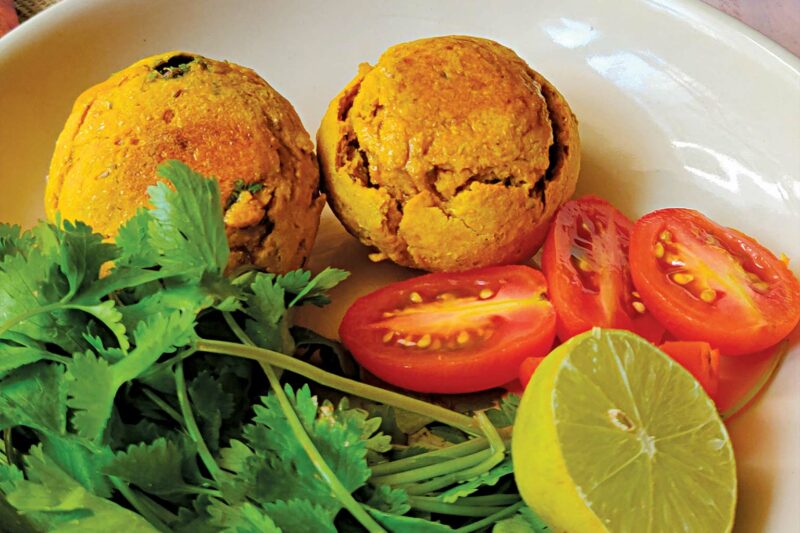 INGREDIENTS
1 cup peas
1 inch piece of ginger
2 cloves garlic
1 green chilli
1 onion, chopped
1 teaspoon cumin seeds
1 teaspoon asafoetida powder
1 teaspoon cumin powder

¼

teaspoon garam masala
1 teaspoon dry mango powder
1 tablespoon lemon juice
2 tablespoons chopped coriander leaves
1 tablespoon oil
For the baatis:
1

¼

cups jowar flour

½

cup boiled pumpkin puree
2 tablespoons curd
1 teaspoon carom seeds (ajwain)

¼

teaspoon turmeric powder
1 tablespoon grated cheese
1 tablespoon sesame seeds
1 teaspoon salt
2 tablespoons ghee
METHOD
Make a paste of the peas, ginger, garlic and green chilli and keep it aside.
Heat the oil and add the cumin seeds and asafoetida powder for the tempering and then sauté the chopped onions. Add the peas paste.
Cook the mixture for 5 to 7 minutes on a slow flame till the peas are done.
Add the cumin powder, garam masala and dry mango powder, mix and cook well. Then add the lemon juice and chopped coriander leaves. Take the mixture off the flame and let it cool.
In a separate bowl, mix together the jowar flour with carom seeds, turmeric powder, salt and ghee and mix it well with your fingers.
Now gradually add the pumpkin puree and the curd and knead it nicely. It should be a sturdy dough, not too wet nor too dry.
Cover the dough and let it sit for 10 to 15 minutes.
Make small balls out of the dough and make a hollow cavity in each. Fill the cavity with the peas paste and grated cheese and close the baatis. Sprinkle some sesame seeds on top of each baati.
Preheat the oven for 10 minutes at 180˚C. Bake the baatis for 10 minutes on one side and then flip them over and bake them on the other side for another 10 minutes.
Once done, let them sit in the oven for 10 more minutes. Take them out and serve with chutney or with a dal of your choice.
Rakshita Dwivedi is an entrepreneur who runs Recipe Dabba, which empowers kids with healthy food choices and uses cooking as a gender agnostic life skill. She has won many awards including the Orange Flower Award, Women Disruptors Award, Homepreneur Award and Web Wonder Women awarded by the Ministry of Women and Child Development. For more recipes, follow her on Instagram @recipe_dabba