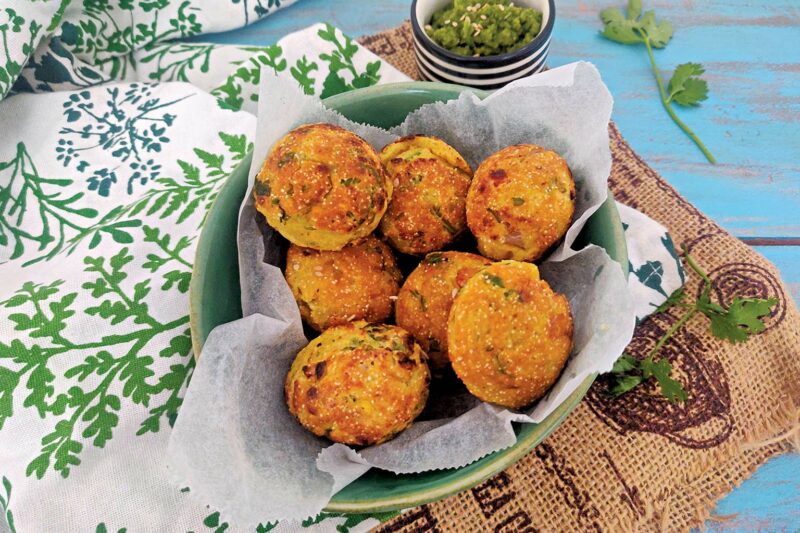 INGREDIENTS
1 cup chana dal, soaked overnight
1 tablespoon ginger paste
4 cloves garlic
1 green chilli

½

cup chopped tomatoes

½

cup chopped onions
2 tablespoons chopped coriander leaves
2 tablespoons roasted suji (rawa)

½

teaspoon salt
1 teaspoon chaat masala
1 teaspoon chilli flakes
1 teaspoon cumin powder

½

teaspoon asafoetida (hing)
1 tablespoon oil
METHOD
Grind the chana dal with the ginger, garlic and green chilli using very little water.
Now add the rawa, salt, chaat masala, chilli flakes, cumin powder and asafoetida and mix well.
Then add the tomatoes, onions and coriander and mix well.
Heat the appe pan and add a drop of oil in each groove.
Now, with 2 spoons, scoop out the batter like a falafel and add a scoop to each groove of the appe pan.
Cover the pan and let the batter cook from the inside. When it has a crisp underside, flip it gently and cook it on the other side too.
Serve hot with green chutney.
Rakshita Dwivedi is an entrepreneur who runs Recipe Dabba, which empowers kids with healthy food choices and uses cooking as a gender agnostic life skill. She has won many awards including the Orange Flower Award, Women Disruptors Award, Homepreneur Award and Web Wonder Women awarded by the Ministry of Women and Child Development. For more recipes, follow her on Instagram @recipe_dabba