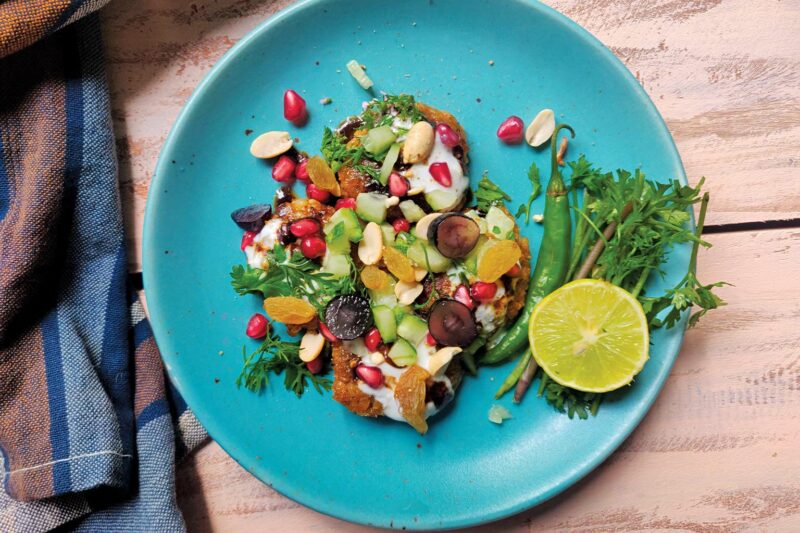 INGREDIENTS
1 cup jowar grains (soaked overnight)
1 green chilli, chopped
1 onion, chopped
1 teaspoon ginger-garlic paste
1 tomato, chopped
1 teaspoon chaat masala

¼

teaspoon garam masala

¼

teaspoon cumin powder
Salt to taste
To Garnish:
4 teaspoons curd
1 teaspoon honey
2 tablespoons tamarind and jaggery chutney
1 cucumber, finely chopped
2 tablespoons pomegranate pearls
2 tablespoons chopped grapes
1 tablespoon roasted peanuts
1 tablespoon chopped coriander leaves
2 tablespoons oil
1 tablespoon salt
METHOD
Pressure cook the soaked jowar in salted water for around 5 to 6 whistles.
Now, heat some oil in a wok and add the green chilli, onion and ginger-garlic paste and cook them well.
Add the chopped tomatoes and cook for a bit. Then add the chaat masala, garam masala and cumin powder along with a little salt and the boiled jowar.
Cover this and cook for another 5 minutes on a slow flame. Then turn off the flame and cool it down.
Pulverise the cooled jowar mixture in a grinder to get a thick paste and refrigerate the mixture for 10 minutes.
Smear a pan with a little oil. With your damp hands, make small tikkis or patties and cook them on both sides in the pan.
Mix the honey in the curd to make honey-sweetened curd.
Place 4 tikkis on a plate and top them up with the sweetened curd, tamarind chutney, cucumber, pomegranate pearls, grapes and peanuts.
Finally, top with coriander leaves and serve immediately.
Rakshita Dwivedi is an entrepreneur who runs Recipe Dabba, which empowers kids with healthy food choices and uses cooking as a gender agnostic life skill. She has won many awards including the Orange Flower Award, Women Disruptors Award, Homepreneur Award and Web Wonder Women awarded by the Ministry of Women and Child Development. For more recipes, follow her on Instagram @recipe_dabba

Name any 5 millets with their English names. Example: Jowar (Sorghum)