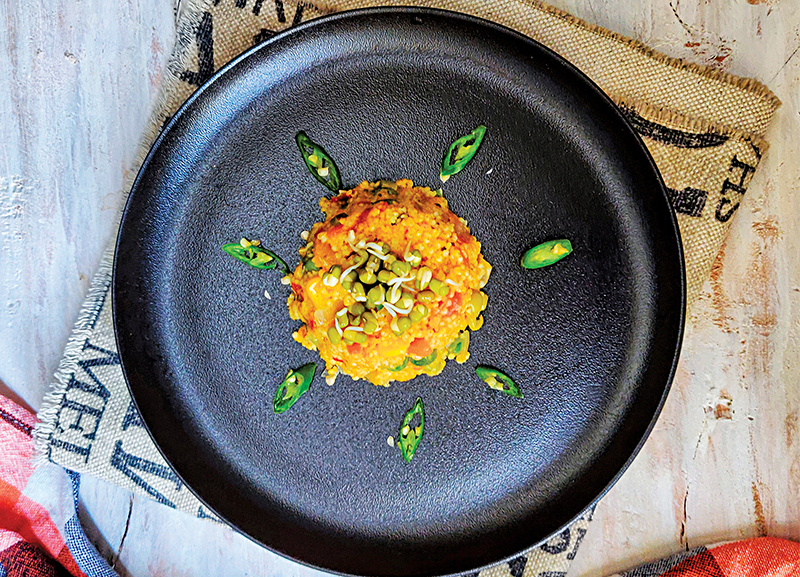 INGREDIENTS
½

cup barnyard millet
1 onion, chopped
1 tomato, chopped
4 tablespoons frozen peas
4 tablespoons frozen corn
4 tablespoons moong sprouts
1 tablespoon oil
1 teaspoon cumin seeds
1 green chilli, chopped
4 cloves garlic, finely chopped

½

teaspoon black pepper powder

½

teaspoon kitchen king masala
1 tablespoon lemon juice
Salt to taste
METHOD
Soak the millets in water for 20 minutes.
In a pan, heat 1 tablespoon oil and sauté the cumin seeds, green chilli and chopped garlic.
Add the onions and sauté till translucent. Then add the tomatoes and cook them nicely.
Now add the frozen peas and corn along with salt and black pepper and mix well.
Add the soaked millets with around

¾

cup water and more salt, if needed, and mix well. Cover and cook till the millets are well cooked.
Add the kitchen king masala, lemon juice and sprouts, mix well and serve.
Rakshita Dwivedi is an entrepreneur who runs Recipe Dabba, which empowers kids with healthy food choices and uses cooking as a gender agnostic life skill. She has won many awards including the Orange Flower Award, Women Disruptors Award, Homepreneur Award and Web Wonder Women awarded by the Ministry of Women and Child Development. For more recipes, follow her on Instagram @recipe_dabba